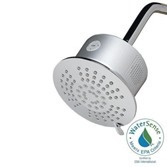 This is a neat idea but I wouldn't one, water costs too much money here and I think all this would do is prolong showers, especially with my kids….
–Homewerks Worldwide LLC®, a fast growing global supplier of residential plumbing and HVAC products, has introduced a new, innovative addition to its expansive line of smart bathroom products. The Home NetWerks™ Bluetooth® Showerhead and Stereo Speaker is now available online at HomeDepot.com and at select Home Depot retailers.

Equipped with Bluetooth® connectivity and an array of smart features, the new Bluetooth® showerhead is an easy-to-install, affordable bathroom upgrade for homeowners. Available for under $70, the showerhead features a sleek six inch diameter face with self-cleaning nozzles and five spray functions.

Designed with both style and functionality, the wireless, rechargeable speaker component features two waterproof stereo speakers offering eight continuous hours of rich quality sound. Unlike other Bluetooth showerheads on the market, the speaker docks directly behind the showerhead so it does not interfere with the exceptional water coverage. The user can also control the volume and skip songs directly from the showerhead. The wireless speaker can also be used anywhere around the home or on the go.

"We are always looking for ways to help our consumers enhance their daily routines and make life more enjoyable," says Peter Berkman, president of Homewerks Worldwide LLC. "Our new Bluetooth showerhead was designed to make music streaming even more effortless so consumers can make their showering experience more enjoyable any time of day."

The Home NetWerks™ smart bathroom product line also includes a Bluetooth Medicine Cabinet and two Bluetooth enabled bath fans, one of which offers an LED light and nightlight. Home NetWerks™ products can be found at select Home Depot and Lowes retailers and online.

For additional information about Home NetWerks™ smart bathroom products, please visit www.homenetwerks.com.