It looks to be one for the ladies, the HP Mini 210 Vivienne Tam Edition complete with Butterflies!  This particular HP Mini comes with 2gigs of ram and a 320gig hard drive and Windows 7 Premium along with a 10.1" screen and it supposedly get 5.5 hours of battery life. It's coming March 19th with an MSRP of $599 and you can even get a butterfly lovers wireless mouse to go with it for only $39.99!
HP and world-renowned designer Vivienne Tam today announced availability of the latest in "digital clutch" chic.
"As a fashion designer I have always found inspiration in bringing contrasting worlds together"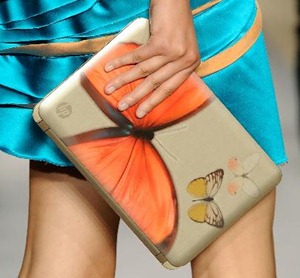 The HP Mini 210 Vivienne Tam Edition made its runway design debut at New York Fashion Week as part of Tam's spring 2010 collection. Fashion-forward women around the globe can reserve theirs now at www.hp.com/viviennetam.
Combining Tam's stunning "Butterfly Lovers" design with premium PC technology, the HP Mini 210 Vivienne Tam Edition is poised to become the next must-have accessory. Starting at 2.7 pounds and less than 1-inch thin, it fits easily into purses or bags.(1)
"As a fashion designer I have always found inspiration in bringing contrasting worlds together," said Tam. "I use computers in every aspect of my life so it seemed natural to marry fashion and technology. Together with HP, we created this movement of fashionable tech accessories with the second-edition digital clutch."
Partnering with Beats™ by Dr. Dre™, HP has included high-performance audio software that enables listeners to experience music – through headphones or external speakers – the way artists intended. Previously Beats Audio was available only in the premium HP Envy notebook PC line.
Inspiration and design
Reflecting Tam's spring 2010 collection, the netbook design is inspired by the classic Chinese love story, "Butterfly Lovers," a beautiful tale of freedom, romance and inspiration. Integrated directly into the netbook's lid using HP Imprint technology, the design is as durable as it is stunning.
The HP Mini 210 Vivienne Tam Edition also comes with a Butterfly Lovers desktop theme that includes an animated butterfly start menu, custom Vivienne Tam icons and three wallpapers to coordinate with the design.
HP has been at the forefront of fusing fashion and technology since unveiling the HP Mini Vivienne Tam digital clutch netbook on the catwalk of Tam's 2008 fashion show at New York Fashion Week in Bryant Park. Models walked down the runway in that show with the peony-adorned computer in hand, a first on an American runway.
What's inside
With an elegant design on the inside and out, the HP Mini 210 Vivienne Tam Edition features custom software to help fashionistas be efficient, stay connected and look their best while on the go:
The built-in webcam allows customers to create and upload videos, take snapshots and chat with friends over the web.(2) With a click of a button, the webcam turns into an instant "mirror."
HP QuickWeb, the company's instant-on software, lets users post to Facebook, send a tweet, listen to music, browse the web, check an appointment, send an email or chat in seconds – saving time usually spent waiting for the computer to fully boot.(2)
Coordinated accessories that further complement the HP Mini 210 Vivienne Tam Edition include a matching microfiber suede sleeve, an optional Butterfly Lovers wireless mouse and Monster-branded in-ear headphones. The Vivienne Tam Mini comes in exclusive gift-box packaging to provide a premium experience.
Product details
The HP Mini 210 Vivienne Tam Edition is the ideal companion PC for the highly mobile, internet-centric fashionista, providing freedom and fun with up to 5.5 hours of battery time.(3) It has a 10.1-inch diagonal LED widescreen display and a keyboard that is 93 percent of the size of a standard notebook PC keyboard.
The HP Mini 210 Vivienne Tam Edition comes with two gigabytes (GB) of memory and large hard-drive options up to 320 GB, automatic backup software and Microsoft Windows® 7 Premium.(4)
Pricing, availability and preorder options(5)
Customers in the United States can reserve the HP Mini 210 Vivienne Tam Edition by calling +1 800 230 5752 or by visiting www.hp.com/viviennetam. The HP Mini 210 Vivienne Tam Edition also will be available at U.S. retailers including Neiman Marcus, Amazon.com, Best Buy and J&R Electronics. A list of additional retailers worldwide is available at www.hp.com/viviennetam.
The HP Mini 210 Vivienne Tam Edition is expected to be available March 19 with a starting price of $599.
The Butterfly Lovers themed HP Wireless Mouse is expected to be available March 19 for $39.99.
About Vivienne Tam
Vivienne Tam is a leading designer fashion house founded in 1994. The company produces, designs and markets women's contemporary apparel distributed in major department stores, specialty stores and independent boutiques throughout the U.S. The company also has a strong presence in the Asia Pacific region with over 30 freestanding stores and in-store boutiques.
The Vivienne Tam brand's unique positioning – designs that meld the aesthetic and feminine mystique of Asia with the spirit of the modern world – is well recognized around the globe. The company's philosophy is to create harmonious clothing that enhances one's personality while at the same time provides fashionable clothing for modern women that is beautifully designed, superior in quality, wearable, easy to travel with and affordable. www.viviennetam.com.
About HP
HP creates new possibilities for technology to have a meaningful impact on people, businesses, governments and society. The world's largest technology company, HP brings together a portfolio that spans printing, personal computing, software, services and IT infrastructure to solve customer problems. More information about HP is available at http://www.hp.com.
(1) Actual weight will vary by configuration.
(2) Wireless access point and Internet service required and sold separately. Availability of public wireless points limited.
(3) Battery life will vary depending on the product, model, configuration, loaded applications, features and power management settings. The maximum capacity of the battery will decrease with time and usage. More information is available at MobileMark07 battery benchmark: www.bapco.com/products/mobilemark2007.
(4) In select regions in Asia, the HP Mini 210 Vivienne Tam Edition will come with the option of 1 GB of memory and/or Windows 7 Basic.
(5) Estimated U.S. street prices. Actual prices may vary.