Good headphones can really enhance your music listening experience. The ones that come with today's MP3 players are usually sub-par, but yet no one seems to complain about them and we just accept them and use them. I don't though, I don't think I've ever used the included headphones for any extended period of time. I've used them long enough to try them because I was curious, but shortly after they went back in the box, or garbage, never to be heard from again. There are many companies out there today making quality headphones, sure you might pay a little extra for them, but why not? You just paid quite a bit for that shiny new MP3 player, but yet you're going to use the stock headphones that probably cost a few cents to make and will not give you any type of good quality sound from your music.
i-Mego has just announced that they will be releasing a couple new pairs of headphones that are more in the luxury line of products. One is the Retro Infinity Xmas Limited Edition with a red leather and velvet headband. The other pair is the Earth Series made from eco-friendly materials and packaging, that's more for the green crowd.
For the luxury purchaser, ready for this coming Christmas, i-Mego is introducing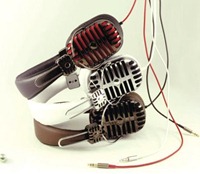 Its Retro Infinity Xmas Limited Edition.  This is the Premium version of i-Mego's top of the range Retro headphones.  The Limited Edition is built with special headband – real leather and velvet – and comes in stylish luxury packaging.  In terms of acoustic performance, technical enhancements have also been introduced for the Retro Infinity, in particular an even more rousing and full-bodied bass, along with clear and detailed mid-range and treble.
The Retro Infinity Xmas Limited Edition provides a truly special and memorable Christmas present for friend, partner or family member, this year.  Audio product retailers in Europe and North America will be able to feature this luxury, limited edition item from late September onwards.
Alternatively, i-Mego's new Earth Series headphones could be the ideal festive gift.  Many people will want to give presents this year that help raise awareness of the important issue of environmental responsibility.  Uniquely amongst headphone brands, i-Mego has been inspired to produce a product design that aims to emphasize the importance of environmental issues.  The new Earth Series combines its stylish 'globe' design and bright colours with the use of eco-friendly materials and packaging – recycled paper and rPET (recycled Polyethylene Terephthalate).
From September onwards, retailers will be able to offer their customers a high quality audio product that also highlights global environmental responsibility, a brand theme that is likely to prove extremely popular with the concerned public.