Well, how's this for a PR headline: "Why Buy the IPad? Check Out Idolian's New Dual Core 10.1 Inch Android Tablet PC, STUDIO for Half the Price". Yeah that's the actual headline for the Idolian PR about their new Studio Android tablet. Yes it's got some decent specs for sure, and personally I'd much rather have an Android tablet than an iPad myself, but that's just me. The new Studio tablet is running Android 4.1 with a 1.6Ghz CPU and a nice IPS 10.1" screen. The best part is of course the price, it's only $258.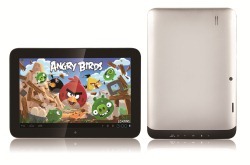 Idolian Mobile (http://www.idolian.com) announces STUDIO, a new Android Tablet PC model at a low price of $258. The newest Idolian Tablet PC features the Android 4.1 Jelly Bean operating system and a 10.1-inch capacitive touch screen with IPS touch panel like on IPad 2 model. At $258, the STUDIO is the lowest priced 10.1-inch Android Tablet PC currently available in the market.

The STUDIO Tablet PC follows Idolian's highly successful IdolPad Plus priced at $98, known for being a cheap tablet pc with high quality. IdolPad Plus has garnered heavy interest and continues in popularity with a large number of sales since it was released. Customer satisfaction with the product has been extremely positive as well.

The STUDIO android tablet pc offers a IPS capacitive touch screen which has high resolution viewing and sensitive to touch. Also, the IPS screen transmits 90 percent of the light emitted from it which provides a better viewing experience. It also offers a Cortex A9 with 1.6 GHz CPU processor, 1GB RAM and 16GB storage on Android 4.1. The design is very thin and light with fully functional Android Google Play with long lasting battery life up to 8 hours. STUDIO also features "Floating Video" that can play video while working on other tasks or play games. And with its price tag of $258, the STUDIO is significantly less expensive than competitors, such as the Apple ipad and the Samsung Galaxy tab series.

Expecting to generate heavy interest in the product, Jay Kim, founder of Idolian Mobile states that, "The STUDIO will be available for pre-orders on our website by November 16th and shipping will begin December 7th." Also, it will be available for sale on Amazon, Sears and buy.com as well.

The company also plans to add an action camera/camcorder to its current product offerings. Currently, Idolian offers 11 different Tablet PC models from its website. Tablet PC accessories and an extended protection plan are also available.

"We are super excited about the release of STUDIO model and its impact on the Tablet PC market. STUDIO tablet is the first Idolian high performance model comparable to IPad or Samsung models. We continue to offer the most affordable Tablet PCs available today," says Kim.