iFrogz has gone eco-friendly with their new line of cases called the Natural series that feature recycled materials and a real wood inlay on the back. There are several designs from just a natural wood pattern to a colorful zigzag pattern made of wood actually. There are five different cases in the series and they're available now for about $50 each.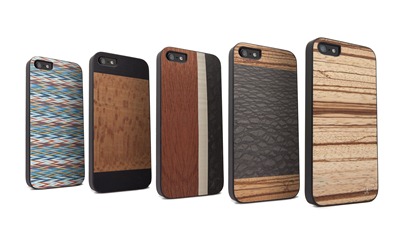 -iFrogz specializing in creative, fashion-driven mobile accessories, has launched a premium, eco-friendly line of cases for the Apple® iPhone 5®. Called the Natural series, each case is made from a combination of woods and recyclable thermoplastic polyurethane (TPU) to protect the device from dents, scratches, and abrasion.

"Our new Natural cases for the iPhone 5 give our customers device protection along with eye-catching and unique design," said Kent Wuthrich, executive vice president of marketing for ZAGG Inc, which manufactures and markets iFrogz products. "The Natural series combines form and function with the use of recyclable materials, and we are excited about this latest addition to our portfolio of creative product solutions."

Available in five options, iFrogz Natural cases are crafted to be both fashionable and durable, offering distinctive prints and reliable protection without the extra bulk. Designs include:

Cacao: A design that invokes retro styling and images of cobblestone streets and antique woodworking.

Oasis: For the architect or interior designer who values clean lines and patterns.

Rockwood: Ideal for a fashionista, the case features a zigzag pattern of wood in blues, reds, oranges and yellows.

Surf: Reminiscent of a retro surfboard and beach bonfires, the Surf features a combination of woods.

Zabrano: Crafted to resemble Zebrano, or Zebrawood, from the Congo of Africa.

All cases in the Natural series retail for $49.99, and are available online at iFrogz.com and at select retail locations nationwide.