I still want one of these, I've got a lot of keys, but I really don't need one, but I want one and I'm sure every other geek out there does as well. They're just so damn cool.
Only a month removed from introducing its USB flash drive insert, Keyport, Inc. announces that its mini-LED insert, designed to fit securely in the Keyport Slide V.01, is ready to ship. Lightweight and compact, the Keyport Slide consolidates keys and other personal items (thumb drive, bottle opener, LED) typically crammed onto a keychain and streamlines them into a single universal access device. About the same size as a traditional key fob that holds only one key, the Keyport provides access to each of the six ports with just the slide of a thumb.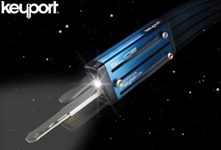 For a look at the Keyport Slide in action, please visit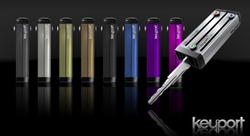 Keyport Advantages
Compact and Lightweight – Keyport's sleek design weighs only 2.1 ounces fully loaded and fits comfortably in the 5th pocket of a pair of jeans
Handles Most Keys – Keyport accommodates the vast majority of key types including most high security and chipped auto keys
No Pain, All Gain – Keyport does not rip up pants pockets or stab the user in the leg and eliminates pocket jingle
Motorcyclist's Best Friend – Keyport is designed to eliminate scratches on the handlebars from dangling keys without having to carry a separate key
Lanyard Attachment – Keyport comes with an optional quick-release lanyard to be able to add loose items such a car alarm fob
Lost & Found – Each Keyport comes with a laser engraved serial number which, when registered, can be used to reunite a recovered Keyport with its owner                        
Keyport also announces the introduction of four additional Slide colors – Gunmetal, Zircon Gold, Copper, and Champagne.  Keyport's Founder and Chief Product Designer, Josh Downes summarized, "Our new colors and inserts, like the mini-LED, continue to expand the range of options a customer has to personalize his or her own Keyport, and this is only the beginning.  There is much more on the horizon."
Keyport starter bundles are $79 and come with a Keyport Slide V.01, six color Nodes, six key Blades and a detachable quick-release lanyard.  The LED light is available for only $9.99 at www.mykeyport.com.