It's been 10 years already since Kingston has been making HyperX and they're celebrating with the release of a limited edition anniversary kit of DDR3 that features frequencies up to 2400Mhz and capacities from 8gb up to 32gb. The PR below mentions the special edition ram but also talks about the SrarCraft II tournament that Kingston is involved with.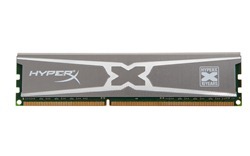 Kingston Technology Company, Inc., the independent world leader in memory products, continues to celebrate its 10th HyperX anniversary with two announcements at

1 Please check your favorite Kingston e-tailer or reseller for pricing.