A long time ago I took a look at a great LeapFrog product, a PDA like device, and my son still uses it actually. This new one is actually an accessory for their Explorer, it's a camera and video camera for kids to take and edit pictures.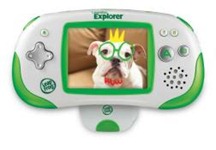 This new accessory snaps into the Leapster Explorer's peripheral slot to expand the entertainment and learning possibilities. With the most built-in photo educational activities and LeapFrog's largest, brightest full-color touch screen, the Leapster Explorer handheld with Camera & Video Recorder provides visual engagement in learning math and reading.
Using the Leapster Explorer Camera & Video Recorder, kids can:
Take, edit and store up to 1,000 pictures
Stretch, stamp and draw on pictures to create personalized snapshots or use them in activities
Play eight learning activities using their photos
Create personalized cards to email to family and friends
Show off photos and photo albums with voice captions and background music
Select one of six songs and direct a music video
"The Leapster Explorer & Video Recorder blends imagination and skill-building, bringing out unique creative expression in every child," said Craig Hendrickson, senior vice president and chief product officer. "From inserting their photos into games, to recording their own music video, our built-in editing tools allow kids to create their own personalized learning experiences."
Point. Shoot. Fun.
Kids can create music videos, photo albums and greeting cards, save their photos and videos to a computer, and share with family members. Additionally, they can earn badges for achievements such as completing Photojournalist missions.  These badges can be converted to tokens by connecting the Leapster Explorer to LeapWorld, an online learning playground (leapfrog.com/leapworld).  With these tokens, kids can personalize and enhance their LeapWorld experience.
Leapster Explorer
The Leapster Explorer delivers more than 40 different learning and play experiences, and offers an unprecedented combination of handheld and online play for four- to nine-year-old kids. Featuring a high resolution touch screen, Leapster Explorer supports downloadable Leaplet Learning Apps, like e-Books and videos, and the click-in camera accessory, for high-tech, kid-tough learning and play.
The Leapster Explorer offers multiple levels of play, and, unique to LeapFrog products, games auto-adjust so a child can learn at just the right pace, keeping the content challenging and engaging. Parents can track their child's progress with the LeapFrog Learning Path (leapfrog.com/learningpath), a unique online tool that shows parents where their child is excelling or could benefit from extra support, as well as sharing learning accomplishments along the way.
Availability
The Leapster Explorer Camera & Video Recorder accessory is sold separately and is MSRP $24.99. The Leapster Explorer is currently available online at leapfrog.com and at all major retailers, MSRP $69.99. For more information visit www.leapfrog.com/explorer