Here's something interesting a 24 inch HD Display with built in HD video and voice. It's a collaboration between LG and LifeSize, which is a subsidiary of Logitech. The display has a 1920×1080 resolution, while the built in camera can do 720p content, The price is a bit up there at $2999 though. It's expected to be available 3rd quarter of 2010
LG's Executive Video Conferencing system boasts a sleek form factor that is powered by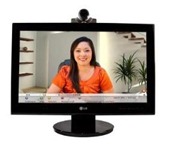 "As more people recognize the value of video communications to improve collaboration and productivity, audio conference calls are becoming a thing of the past," said Craig Malloy, CEO of LifeSize Communications. "LG's Executive Video Conferencing System is more than a solution that streamlines the HD video communications experience – it is one leap closer to our vision of a world where HD video communication is as mainstream and seamless as a telephone call."
Pricing and Availability
LG's Executive Video Conferencing System, powered by LifeSize, is priced at USD $2,999 with global availability expected in the third quarter of 2010.
About LifeSize Communications
LifeSize Communications is a world leader in high definition video communications and telepresence. Founded by industry veterans in 2003, LifeSize pioneered high definition video communications to make communicating at a distance as natural and effective as being in the same room, for anyone, anywhere. LifeSize became a division of Logitech in December 2009, sharing a vision of everywhere there is voice there should be video. More information about LifeSize can be found at www.lifesize.com.