I'm not sure what's so urban about these bags. I guess my definition of urban and their definition of urban isn't the same at all. The new Moshi bags are nice looking yes, but they look more like business bags or cases to me. I think they have more of a professional look to them, and not what I would call urban at all. The news bags though are the Urbana which kind of looks like a briefcase and the Venturo which is a single strap backpack.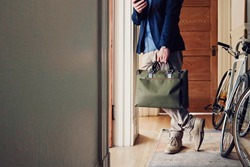 Moshi, designer of fashionable high-end mobile accessories, announces the availability of the urban-inspired

Venturo

Venturo is a single-strap laptop backpack influenced by the style and function of messenger bags. The crossbody design features one strap, making it much more convenient to use and access what's inside compared to a traditional two-strap backpack. Instead of having to remove the straps to get in your bag, the crossbody design allows you to quickly sling the bag back to front without missing a beat, offering convenience when commuting. You can keep walking when you open the bag and quickly shift it from front to back when sitting down. The Venturo offers portability and security when you're on the train or bus so you can keep an eye on your valuables.

Venturo's roomy interior has independent cushioned compartments to secure an up to 15-inch laptop and an iPad or tablet. Additional pockets can organize your cables, accessories and other necessities. Built with advanced, lightweight materials that are both wear- and weather-resistant, Venturo stylishly protects your essentials in any weather, wherever you go. Padded Airmesh fabric lines the quick-release shoulder strap and back for excellent ventilation and an ergonomic fit, keeping you comfortable and cool on your daily commute. For added security, a zippered back compartment allows you to keep passports, IDs and credit cards close to your body and invisible to passers-by.

The Venturo collection is crafted with a combination of high-resilience materials and PU leather, with a splash-repellent outer surface. Venturo's soft matte finish is both stylish and practical. Venturo is available for $119.95 in Charcoal Black or Steel Blue and for $149.95 in Titanium Gray or Navy Blue with a special coating for enhanced durability and weather-resistance.

Urbana, the modern day briefcase reinvented, is the perfect solution for the sophisticated user looking for a stylish yet functional laptop bag. Like Venturo, Urbana's ultra-slim profile features an interior large enough to fit up to a 15-inch laptop and iPad or tablet with room to spare. Urbana doesn't just give a nod to refined style, but also considers comfort for today's urban dweller. The bag's proprietary ViscoStrap has a unique weight-bearing elastic design that reduces shoulder strain by 30 percent.

Urbana was inspired by Moshi's desire to create a contemporary, yet practical and durable laptop bag that wears well over time. Featuring modern design accents and a surface-treated exterior, Urbana's slim design gives a minimalist yet professional look to protect your gear from the elements. Weighing in at just over 30 ounces, Urbana is one of the lightest bags on the market. Combined with the ViscoStrap, Urbana helps absorb the weight of the gear it carries to reduce strain on our shoulders. The ViscoStrap can also be removed and stored in the bag to hand-carry Urbana.

Urbana is crafted with high-resilience polyester and PU leather. The splash-repellant bag keeps your files and gear protected from rain and snow, making it the perfect year-round daily and extended travel companion. Urbana is available for $119.95 in three colors: Cerulean Blue, Forest Green and Mineral Gray.

Both bags are available at www.moshi.com.