According to Sony, the digital picture frame shouldn't be just for pictures! This is nothing new though as many other frames out there support video playback, a feature which I think should be on all picture frames anyway really.
Sony today announced three new S-Frame digital photo frames (models DPF-XR100, DPF-VR100 and DPF-D830) that let consumers keep their favorite memories close with innovative, high-quality features, including video playback and battery operated capabilities.
The DPF-XR100 and DPF-VR100 models offer AVCHD video playback capabilities, allowing consumers to view detailed, realistic video with vivid colors and contrast directly on the units' high-resolution WSVGA LED backlight LCD screen.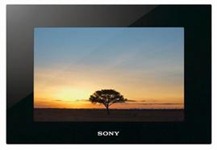 Sony has also included eight additional S-Frame models (models DPF-A710, DPF-D710, DPF-D810, DPF-D75, DPF-D820, DPF-D1010, DPF-D95, and DPF-D1020) to its line of digital photo frames today, offering a range of options for consumers on any budget. The frames vary by screen size and internal memory, and range in price from about $70 to $150. Models including DPF-D820, DPF-D830 and DPF-D1020 are also compatible with Motion JPEG (AVI and MOV) files.
All the frames introduced today offer convenient features such as slide show variations, an auto orientation sensor to detect if your frame has been placed horizontally or vertically, clock and calendar views, and index modes so you can preview several photos at once. You can also conserve energy by using the auto power on/off setting to program when you want the frame to turn on in the morning and off at night. Functions of the digital photo frame can be managed using the included remote controller.
Digital images can be loaded onto the internal memory of the digital photo frames from several types of media cards, including Memory Stick PRO(TM), Memory Stick PRO Duo(TM), SD and SDHC Memory Card, and MMC. Photos can also be transferred to the frames from a computer via a USB cable (optional). All models support JPEG and RAW (thumbnail preview) image file formats.
Pricing and Availability
The S-Frame DPF-XR100, DPF-VR100 and DPF-D830 digital photo frames will be available in November for about $250, $200 and $150, respectively, direct at sonystyle.com, at Sony Style® retail stores around the country, and through the Sony Retailer Network nationwide. Pricing and availability for the additional models are as follows:
  --  DPF-A710 - available in October for about $70
  --  DPF-D710 - available in October for about $80
  --  DPF-D810 - available in October for about $100
  --  DPF-D75 - available now for about $100
  --  DPF-D820 - available in October for about $120
  --  DPF-D1010 - available in October for about $130
  --  DPF-D95 - available now for about $140
  --  DPF-D1020 - available in October for about $150
This company's web site http://www.sony.com