The other day I posted about the Echo Touch Gloves and today I've got news about more of the same. That's not a bad thing of course as more is better, it offers variety and better pricing on what you want. The NuTouch gloves from NewerTech have all ten fingers that are capacitive unlike others out there. Mine have only three on each hand, while these have all ten which makes things more interesting and useful. These gloves are available in all sizes and cost only $19.99 but right now you can get them for $11.99.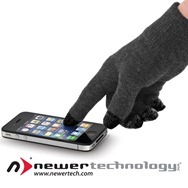 Ideal For Commuters And Mobile Lifestyles
NuTouch Gloves are the ideal mobile lifestyle accessory when wanting to use a touch screen device while waiting for the bus, commuting on the train, attending outdoor events, running errands, and more. Unlike other brands of gloves that limit finger use and touch capability, NuTouch Gloves have a special conductive fiber woven into all 10 fingertips so users can enjoy the fastest typing input on full-sized touch keyboards.
Maximum Comfort And Control
Made from a soft cotton mix and available in four hand sizes – S/M/L/XL, NuTouch Gloves offer maximum comfort and flexibility without diminishing the ability to hold and use a touch screen device. The classic charcoal color complements any attire from casual to professional. NuTouch Gloves can be worn by themselves, or as liners with heavier cold weather gloves.

Works With Any Touch Screen Surface
NuTouch Gloves allow users to control any touch screen surface including:
* iPhone and other smartphones
* iPad and laptop touchpads
* iPod, iPod touch, and other digital music players
* Personal gaming systems
* GPSs
* eBook readers
* ATMs

"These stylish and functional gloves are perfect for holiday gift giving," said Grant Dahlke, Brand Manager, Newer Technology, Inc. "With NuTouch Gloves, touch screen device users don't have to compromise comfort and/or control when the temperature drops."

Price And Availability
Priced at $19.99 MSRP, the Newer Technology NuTouch Gloves are available for $11.99 from NewerTech's exclusive distributor, Other World Computing (OWC(r)). For more information on NewerTech's complete line of accessories and upgrades for Macs, PCs, and iOS devices, visit: http://www.newertech.com/products.