Yep, on February 10th you'll be able to get a pink Nintendo 3DS for that special sweetheart in your life. The Pink version is the same as the others of course, just a color change. Price will be $169.99 and should be available most everywhere you'd except it to be.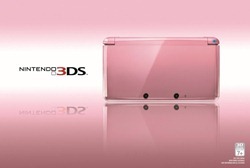 Nintendo of America has a perfectly pink new option for consumers looking to win over their loved ones this Valentine's Day. Starting Feb. 10, a Pearl Pink edition of the Nintendo 3DS hand-held system – previously available only as part of a limited-edition bundle – will be available as a stand-alone item at retailers nationwide, offered at a suggested retail price of $169.99.

In addition to free Wi-Fi access at thousands of locations across the nation, fun augmented-reality features and the ability to enjoy games and videos in 3D without the need for special glasses, Nintendo 3DS has a host of built-in social features that can keep users connected to their special someone throughout the year, plus a great lineup of games (sold separately) that lovebirds can enjoy together:

With the system's built-in camera, sweethearts can each use their system to capture and share 3D photos and videos of romantic outings this Valentine's Day – and always.
The new Swapnote application, which is available for download from the Nintendo eShop at no cost, lets users create and send customized 3D love notes to their sweethearts from their Nintendo 3DS.
The adorable virtual pets in the nintendogs + cats game can bring out players' sweet side and make great portable companions on those lonely days when they're apart.
Users can share creative passion with their beloved by playing downloadable games such as Pushmo and Freakyforms: Your Creations, Alive!, both available from the Nintendo eShop, and by exchanging QR codes to show off their heartfelt handiwork.
The multiplayer modes in the Mario Kart 7 game invite players to get their hearts and their karts racing on a wild array of 3D Mario-themed courses.

For more information about Nintendo 3DS, visit http://www.nintendo.com/3ds.