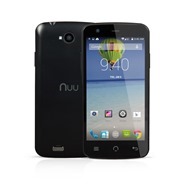 Times certainly have changed haven't they, quad core smartphones used to be extremely expensive, but now you can get them unlocked off-contract for less than $200 brand new. That's a price that I think is within most peoples reach in terms of affordability. NUU Mobile has just announced that it's launching the X3 Android smartphone at the end of May for only $179.99, and that's the MSRP price so we'll surely see it lower than that. Specs are decent for the price with a 4.5" screen at 960×540 resolution with an 8mp read camera and 2mp front camera. The phone will come with Android 4.4 but will be upgraded to 5.0 later this year. The phone comes with 8gb of storage but you can use a microSD card for an additional 32gb. More details and info below for you..
NUU Mobile today launches its X3, the company's second 4G LTE unlocked phone. The sleek X3 is built on Android's 4.4 KitKat operating system and will sell for $179.99 MSRP through online retailers including BestBuy.com, HSN.com, Target.com, and NUUmobile.com.

Performance and Power

The X3's sleek frame houses a powerful Qualcomm Snapdragon processor making tasks smooth and seamless. And the KitKat operating system gives users the ability to multitask with ease – stream videos, email, text, social media, online radio, download the latest apps and games. The operating system will be upgradable to Lollipop 5.0 later this summer and offers new productivity options and a much-improved Google Now.

"We want to provide our customers with a phone loaded with the latest technology and innovative features without the high price," said John Murtha, vice president of sales for NUU Mobile. "The X3 takes our product offering to the next level by meeting the needs of consumers who want an affordable, feature-rich LTE device with the freedom to choose their own carrier and plan."

Clarity and Sharpness

The X3 features a crisp 4.5-inch qHD display with wide-angle view, making the screen come to life with crystal clarity and vivid graphics when enjoying movies, videos and games.

The X3 arms consumers with an 8 MP rear camera with low-light sensor to take award-worthy photos in any kind of lighting, and a 2 MP front camera.

Functionality and Flexibility

Consumers can stay connected and multitask with LTE speed on T-Mobileâ and AT&Tâ LTE networks including Cricket Wireless, Lyca Mobile, MetroPCS, Net10 Wireless, Straight Talk and more. And with Dual SIM cards, consumers can have two phone numbers on one device, eliminating the need to carry separate phones for work and personal life.

The X3 also boasts an expandable memory with microSDä (up to 32 GB) and removable lithium-polymer battery.

Pricing and Availability

The X3, available in both black and white, is priced at $179.99 MSRP and will be available through BestBuy.com, HSN.com, Target.com, Amazon.com, NUUMobile.com and other fine retailers. In late May, the X3 will also be available in more than 165 Meijer stores throughout the U.S.

Warranty Protection

The X3 will come with a two-year limited warranty, as NUU Mobile recently announced that all newly-manufactured devices would come with a two-year limited warranty. NUU Mobile also offers reliable U.S.-based customer support via both phone and email.

NUU Mobile X3 features:

• 4.5-inch qHD Touch screen 960 X 540 (245 PPI)

• 8 MP rear camera with low-light sensor

• 2 MP front camera

• HD video recording and playback

• Enabled for 4G LTE: Bands 2,4,17 (T-Mobile® and AT&T® networks)

• Up to 150 Mbps HSPA+ connectivity

• Android™ 4.4 KitKat operating system, upgradeable to 5.0 Lollipop later this summer

• Qualcomm Snapdragon 1.2 GHz Quad-Core processor

• 8 GB Internal ROM Storage, expandable with microSD™

• 1 GB RAM

• 2000 mAh battery

• Dual SIM card supports 4G LTE & 2G

• Over-The-Air (OTA) updates

• Noise cancelling audio

• Bluetooth 4.0

• LED notifications

Customize and Accessorize

Consumers can personalize the X3 with an interchangeable back cover available in a variety of bold colors including pink, blue and white. The back covers will be sold online in a set of three for $19.99.

Additional accessories including protective cases and glass screen protectors will be available for $19.99 each through select online retailers as well as in Meijer stores.

To learn more about the NUU Mobile X3, visit www.nuumobile.com.