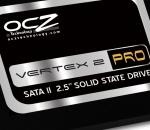 SSDs for enterprise clients, that sounds odd, most would think that SSDs are for enthusiasts and gamers, but I guess businesses would want the performance boost that SSDs can give. The Vertex Pro and EX SSDS drives for enterprise are available in capacities ranging from 50 to 200gb and feature aes-128 bit encryption built-in along with a 3 year warranty.
Built with the latest SandForce SF-1500 SSD processors, the Vertex 2 Pro/EX series of SSDs addresses the limitations of NAND flash memory in I/O-intensive environments and maximizes endurance and reliability. As a viable enterprise-grade, Multi-Level Cell (MLC) solution, Vertex 2 Pro features transfer rates up to 285MB/s read, 275MB/s write, and 4KB random writes up to 50,000 Input/Output per second (IOPS). Ideal for rigorous applications and workloads, the Vertex 2 EX uses Single-Level Cell (SLC) memory, which has ten times the program/erase (P/E) cycles with the same enhanced performance as the Pro edition. Additionally, a Serial Attached SCSI (SAS) version will be made available to clients making use of the interface in their storage infrastructures.
Furthermore, Vertex 2 Pro/EX increases the longevity of NAND flash memory with intelligent block management and wear-leveling to extend endurance and overall reliability of the device. This feature automatically stores data in an AES-128 encrypted format to prevent data extraction to maintain security of confidential information, a necessity in an enterprise environment.
Combined with greater durability and lower power consumption than traditional mechanical hard drives, the Vertex 2 Pro and Vertex 2 EX deliver the performance needed to take enterprise applications to the next level. Available in 50GB, 100GB, and 200GB capacities, these SSDs feature a 10 million mean time between failures (MTBF) rating and come backed by a 3-year warranty and dedicated technical and engineering support and customization for OEM clients.
To view the Vertex 2 Pro and Vertex 2 EX Solid State Drive (SSD)
Series, please visit:
Vertex 2 Pro
http://www.ocztechnology.com/products/solid-state-drives/2-5–sata-ii/m
aximum-performance-enterprise-solid-state-drives/ocz-vertex-2-pro-serie
s-sata-ii-2-5–ssd-.html
Vertex 2 EX
http://www.ocztechnology.com/products/solid-state-drives/2-5–sata-ii/m
aximum-performance-enterprise-solid-state-drives/ocz-vertex-2-ex-series
-sata-ii-2-5–ssd-.html