They say bigger is better, and PowerA seems to agree with that as they've just announced a larger version of their Moga Android game controller called the Moga Pro. It's supposed to give a more console like gaming experience on your mobile devices, which can only be good right?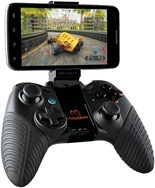 PowerA™ unveils a new addition to the MOGA™ Mobile Gaming System at this year's Consumer Electronics Show in Las Vegas, January 8-11 — the console-style MOGA Pro Controller. MOGA Pro is a full-featured mobile game controller that transforms your Android into a mobile gaming system and brings a familiarity console gamers will appreciate.

Features of the MOGA Pro include full-sized console-style grips, precision dual analog sticks, 4 action buttons, a classic directional pad, two shoulder buttons, two shoulder triggers, rechargeable batteries, USB charging cord and a tablet stand. Additionally, MOGA Pro comes with the full support of the MOGA Mobile Gaming System, including wireless Bluetooth synching with Android phones and tablets, the MOGA arm that secures phones up to 3.2 inches wide and the MOGA Pivot App.

"The response to our MOGA pocket-sized controller from Android gamers has been fantastic, and we're now excited to give mobile gamers true, console-style control with MOGA Pro," said Eric Bensussen, President of PowerA. "Now more than ever, mobile gamers will feel at home with a traditional controller while playing the huge variety of games available on the MOGA Mobile Gaming System."

MOGA Pro will be available in Spring 2013 (price TBD).

For a complete list of games that support MOGA, visit www.PowerA.com/MOGA.