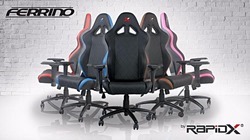 Chairs are important when sitting at your desk, but since gaming has become more and more mainstream there's chairs for that as well which is a good thing. So I've got a press release for you about these new chairs, they're on Amazon and other retailers and are priced about $350 which isn't bad for a decent chair…..
The Holiday season always brings an influx of new games and games systems, making comfortable playing accommodations essential. RapidX's recently launched Ferrino and Finish Line gaming chairs deliver "Best in Class" design and function by combining the comfort of luxurious office chairs with the ergonomic design and flexibility of performance race car seating.

Former NFL star Ahman Green now gets his game on in his RapidX Finish Line chair.

The RapidX gaming chairs' seating platform can be lowered to as low as 13-inches from the floor to make it a perfect perch for console gamers huddled around the Family Room big-screen TV, while desktop PC gamers can enjoy levels of comfort and adjustability on par with premium-level office furnishings.

"Having the RapidX Finish Line gaming chair, I can now now enjoy my gaming time in a comfortable chair that allows me to game for hours," said Ahman Green, former NFL Star and avid gamer.

"And the chair has an awesome look and design!"

"RapidX is the culmination of 20 years in the gaming and custom furniture industries, having intimate knowledge of both led to the development of products that sit at the crossroads of two traditionally disconnected market segments," said Ammar Adra, RapidX founder. "The Ferrino and Finish line chairs were created to express a perfect blend of lifestyle, technology,

and design."

About Ferrino

RapidX's Ferrino series chair delivers maximum comfort for extended gaming sessions. The Ferrino features bold, yet tasteful, design accents and is available in six colors: solid black, or black with white, blue, pink, red, or brown stitching and accents. A single 2.5-inch color strip wraps around the perimeter of the chair back and seat for optimal style and durability. When combined with the diamond-pattern color stitching, the striking contrast delivers a sharp, sporty design aesthetic.

About Finish Line

RapidX's Finish Line series chair melds function and design aesthetics from both the gaming and motorsports worlds. The Finish Line is available in four color options: red on black, white on black, white on blue, or yellow on red. Its hallmark checkerboard-style pattern and double-color stitching hides an orthopedic secret that makes this sporty chair surpass durability and comfort expectations. Physically wider than the Ferrino model, the Finish Line delivers cutting edge style and comfort that appeals to gamers and racers alike.

RapidX's Ferrino and Finish Line gaming chairs are available for purchase at Amazon.com, Target.com, and NewEgg.com.

For more information regarding RapidX's Ferrino and Finish Line gaming chairs,please go to www.rapidx.io.