We've reviewed a few Rapoo products here, Tom and I both, and we liked them. I very much liked the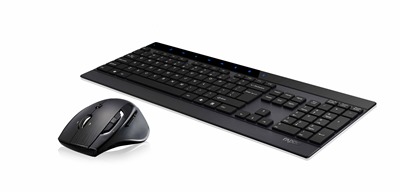 The

The first part of the 8900P package is the E9270P, an ultra-slim touch keyboard with intelligent, multimedia touch keys.  Crafted from stainless steel and aluminum alloy (only 4mm thick), this keyboard's elegant look earned it a coveted IF Product Design Award 2013.  Users can type comfortably and accurately for long periods of time because of the scissor key structure and floating chiclet keys.

Illuminated multimedia touch keys are located at the top of the keyboard, and they light up as your hand moves closer.  This also features tactile feedback vibration so you can not only touch, but truly feel the keys.  Additionally, the keyboard boasts a 5GHz wireless transmission for a reliable connection.   Small and unobtrusive, simply plug the Nano Receiver into a USB port, and forget about it.

The second component of the 8900P set is the 7800P wireless laser mouse with six buttons and a zoom in/out slide switch.  This is a full-size mouse with a high-definition laser engine so it is very easy to control and navigate.  A 4D scroll wheel makes it possible to scroll horizontally and vertically, and you can choose between 800 DPI (for accuracy) and 1600 DPI (for fast movements) with the push of one key. 

The mouse runs on a 5GHz wireless transmission so you can avoid interferences caused by Bluetooth and WiFi equipment.  Its batteries last up to one year.

The 8900P is available for $89.99 at www.staples.com, www.walmart.com, and other retailers.