Mice, you pretty much have to have one, at least I do as I hate trackpads, now if everything was touch enabled then I wouldn't need a mouse. Anyway, back to mice, Rapoo has just announced three new wireless mice that you might want to check out, depending on your needs of course. The mice are all optical meaning you can use them on most any surface you need to without the need to carry a pad with you. The mice are inexpensive ranging from $20 to $25 so there's one to fit anyone's budget.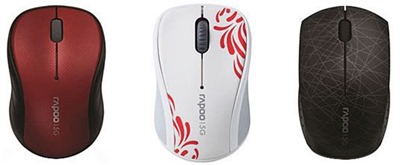 Rapoo, a leading manufacturer of wireless peripheral products, unveils its latest collection of optical mice in the U.S.  The 3000P, 3100P, and 3300P all feature the 5GHz standard for wireless and interference-free use, a high resolution DPI sensor, and a sleek, compact design with Nano adapter storage compartment. 

The 3000P Wireless Optical Mouse (left image) is travel-ready, and a must-have item for Notebook users.  Its small and compact size makes it easy to pack or stow away.  The 3000P utilizes advanced energy saving technology which allows the battery to last up to 18 months of continuous use.  The 1000DPI sensor offers complete control of the mouse movements for enhanced performance and productivity.  It's available in red, gray and blue for $19.99 at www.walmart.com and www.staples.com.

The 3100P Wireless Optical Mouse (middle image) is the ideal option for both left-and-right handed users because of its symmetrical design.  It's fitted with rubberized grips on the sides for optimal control, and the 1000DPI optical sensor offers accurate movements.  Its batteries also last up to 18 months before needed replacement. The 3100P is available in black, blue, and white with an elegant red design for $19.99 at www.walmart.com.

The 3300P Wireless Optical Mini Mouse (right image) is the smaller counterpart of the 3100P.  It's about the size of a matchbox, and it can fit into a pocket, purse, or almost any small compartment.  Don't let its size fool you, the 3100P packs a lot of power, and also features a high-performance 1000DPI optical sensor for complete control.  Its battery lasts up to six months, and it's available in black or white with an elegant red design for $24.99 at www.walmart.com and www.staples.com.

For more information on new and existing Rapoo products, "like" us on Facebook.com/Rapoo or visit Rapoo.com.