This thing does look interesting, but I'm not sure people are ready to buy albums on microSD cards just yet…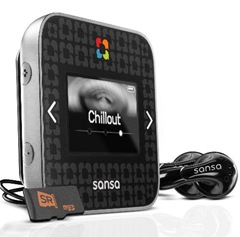 The slotRadio player is a small, stylish, portable device that plays music directly from pre-loaded slotRadio™ cards, eliminating the hassle of software installations, time-consuming music selection and file-by-file downloading. Most slotRadio cards contain 1,000 songs* featuring artists from Billboard® top charts. The cards are professionally arranged into a variety of genre-themed playlists.
"SanDisk has delivered a seamless solution for music lovers who want to listen to their favorite songs but don't want to deal with the hassle of downloading content and creating playlists," said Jay Kramer, chairman of the awards program and vice president, worldwide marketing, SEPATON. "The slotRadio player and card give listeners instant access to 1,000 songs at an affordable price, and we are proud to select the slotRadio player for the Best of Show Innovation Award."
"We are honored to receive the Best of Show award for the innovative flash memory consumer application that is the slotRadio player and card," said Noam Kedem, vice president, content, SanDisk. "slotRadio entertainment is all about making great music effortless – and this translates into a quicker and easier experience for consumers who wish to simply enjoy the music without the technological drama."
About SanDisk
SanDisk Corporation is the global leader in flash memory cards, from research, manufacturing and product design to consumer branding and retail distribution. SanDisk's product portfolio includes flash memory cards for mobile phones, digital cameras and camcorders; digital audio/video players; USB flash drives for consumers and the enterprise; embedded memory for mobile devices; and solid state drives for computers. SanDisk is a Silicon Valley-based S&P 500 company, with more than half its sales outside the United States.
*slotRadio cards contain songs pre-programmed in music playlists for unlimited playback with a slotRadio To Go player; slotRadio player; and Sansa® Fuze™ player (with firmware update). Much like radio, these songs are played in sequence and cannot be rewound or rearranged, yet in slotRadio™, individual songs can be skipped as often as you want. Song and playlist files cannot be copied or viewed (for example on a PC).
SanDisk's product and executive images can be downloaded from http://www.sandisk.com/corporate/media.asp SanDisk's web site/home page address: http://www.sandisk.com