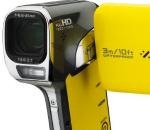 I guess you have to live near the ocean to really appreciate something like the new Sanyo Xacti waterproof camera.. Living in Pittsburgh means rivers, and I'm not too sure about swimming in them, they're not exactly clear…  Anyway, the Xacti can take full 1080P videos and 14mp stills down to 10 feet underwater. The camera will be available sometime in August for $349.99.
Designed for any indoor or outdoor adventure, the VPC-CA102YL fits perfectly in the palm of the user's hand and is small enough to be carried in a pocket, backpack, or purse — ready to be used at any time and in any weather condition. SANYO Dual Cameras use a convenient video format, MPEG-4 AVC/H.264, which makes sharing videos online, on blogs or on other multimedia sites simple. The media created can also be easily edited and exported to portable media devices. Photos and videos can be displayed in Full HD resolution on high definition TVs.
The camera uses a proprietary "double-range zoom" feature for zoom operation while filming video with 12x zoom available from wide angle to telephoto for capturing distant objects (equivalent to 40mm to 480 mm zoom in a 35mm film camera). In addition, the High-Speed Sequential Shooting mode enables capturing up to 22 photos at 7 frames per second.
Files can be saved to SD, SDHC or ultra-high capacity SDXC (up to 2Tb) memory cards. Also, there are multiple video and photo modes for flexibility in memory use. The battery will allow approximately 60 minutes of continuous filming time in Full HD mode.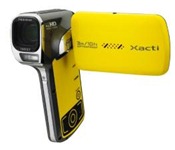 Main Features: VPC-CA102YL

  --  Full-HD videos, 1080 60i (1920 x 1080 pixels)
  --  14MP photos
  --  Waterproof (can be used in water up to 10 ft depth)
  --  Compact, vertical form factor
  --  CMOS sensor (14.4MP)
  --  38 mm wide-angle lens
  --  5x optical zoom, 12x double-range zoom
  --  Compatible with SD, SDHC, or SDXC memory cards
  --  Wireless data transfer via Eye-Fi SD cards*
  --  2.7-inch TFT LCD display (can be turned 285 degrees)
  --  "Face Chaser" and "Target a Color" functions
  --  Mini-HDMI port
  --  Rechargeable lithium-ion battery
  --  Rechargeable via USB port
  --  Stylish yellow body with gray accents
  --  Size: 3.37 x 1.47 x 4.34 inches (WxDxH)
  --  Weight: approx. 5.5 ounces
For more information about the SANYO VPC-CA102YL please visit http://www.us.sanyo.com/Dual-Cameras.