Hmm, a mini projector for under $200, $170 to be exact and it's got fairly decent specs. It's 1" thick and weighs 2.6 ounces and it comes with a 2gb micro sd card.  The resolution is 640×480 and it can play several formats for audio and video.
Small in size, but big in usability, the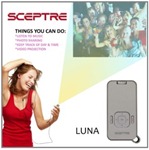 "The modern society places demands on immediacy, portability and usability, and the Luna meets all those needs in one tiny package," stated Cathy Chou, Vice President of Operations, Sceptre.  "By combining the functionality of a projector and MP3 player, the Luna allows the user to enjoy music and share content and information wherever and whenever needed."


Perfect for on-the-go users, the Luna can be used to watch movies, showcase projects and presentations, even listen to music.  Supporting an array of music, video and picture files, including the most popular AVI, MOV, MPEG, JPEG, BMP, MP3 and WMA, the Luna transforms from a pocket sized video project into an MP3 player with a single switch of a button. 
Standard with functions such as calendar, slideshow, video, MP3 and more, the Luna comes with a 2GB Micro SD Card expandable to 32GB for increased storage capacity.  Available in white with silver trimming with three interchangeable skin protectors in Black, Pink and Blue, the Luna can be purchased at QVC, Amazon, Wal-Mart, NewEgg, Target, Sears and K-mart for $169.99 MSRP.
ADDITIONAL PRODUCT SPECIFICATIONS
Model: LUNA100W
Maximum Resolution: 640×480
Light Source: LED (White)
Projection Distance: Up to 99"
Image Size: 5" – 50" (Diagonal)
Estimate Life: Over 20,000 Hours
Battery Life: MPE – 5 Hour, Projection – 1 Hour
Memory Capacity (Micro SD): 512 MB – 32 GB
Video Compatibility: AVI, MOV, MPEG1, MPEG2, MPEG4
Audio Compatibility: MP3, WMA, WAV
Image Compatibility: JPEG, BMP
Projector Dimensions: 3.32" x 1.74" x 0.8"
Projector Weight: 2.6 oz
Skin Protector Colors: Black, Pink and Blue
For more information, please visit www.sceptre.com.