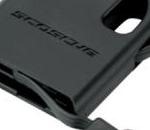 I want one.. not sure if I would actually carry it on my keychain, but I would at least toss it into the same bag as my laptop is.. The flipSYNC comes in two different models, one for the iPhone/iPod and one for other phones or other devices that has a mini-USB connection on it. It can be used for both charging and syncing. I think for $19.99 it's not a bad deal, Scoshce products are decent so I'm pretty sure it will be well made..
The flipSYNC is available in two models, IPUSBM which features an iPhone/IPod connection, and USBMM which features both Mini and Micro USB connections for use with Blackberries, digital cameras and more.  Both models feature USB 2.0 for the fastest data transfer possible.
Both flipSYNC models are available now in Bestbuy stores and online at bestbuy.com  and Scosche.com for 19.99.