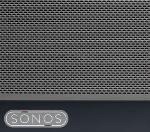 Basic black, matches any decor! The Sonos ZonePlayer is a great little wireless audio system that can be used in conjunction with your iPhone or iPod or any Sonos controller.
"We're thrilled to expand our product portfolio to include the S5 in black," said Phil Abram, President, Sonos, Inc. "We felt it was important to offer our customers a choice when designing their perfect Sonos setup for different rooms of their home."
The key features of the Sonos S5 include:
  --  Room-filling sound: 5 integrated speakers and 5 dedicated digital
      amplifiers provide crystal-clear audio that fills any room with music.
  --  Unlimited music from iTunes and the Internet: Play way more than what
      fits on your iPod, including all your iTunes, free Internet radio and
      millions of songs and stations from the Internet, including
      iheartradio, Last.fm, Napster®, Pandora®, Rhapsody®, SIRIUS® Internet
      Radio, and more.
  --  Control with an iPhone or iPod touch: Download the free Sonos
      Controller for iPhone app and search for songs, choose the music and
      control the volume in any room from anywhere.  Don't have an iPhone?
      Use any wireless handheld Sonos Controller or the Sonos Controller for
      Mac or PC.
  --  Wireless expandability: Add more S5s wirelessly and fill your whole
      house with music. Then, play the same song in every room or different
      songs in different rooms.

Web Site: http://www.sonos.com/