I don't like exclusivity with these companies these days, sure it makes money for the companies but in the end I think it hurts the consumer leaving the products unavailable for everyone. The new Sony Xperia Z2 tablet is coming to Verizon only, while I have AT&T so I can't get one, and anyone else who is on any other carrier can't get it either unless of course they leave their current carrier to go to Verizon. Anyway, Sony has just announced the new Xperia Z2 which is a waterproof tablet running Android and you can only get it on Verizon it seems .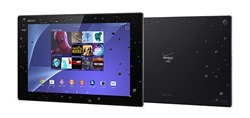 Sony Mobile and Verizon Wireless today announced the Xperia Z2 Tablet will be available in the U.S. as an exclusive to Verizon Wireless, offering consumers a premium Android™ 4G LTE connected tablet. Verizon customers can pre-order for the Xperia Z2 Tablet beginning July 10, 2014 at www.verizonwireless.com.

Premium device built to handle life's everyday surprises
At just 0.25" slim and weighing less than a pound, the Xperia Z2 Tablet is so slim and lightweight, you will forget you're holding it. Even with its sleek build, you do not have to give a second thought about where you use it, since the Xperia Z2 Tablet is designed with a display that is scratch resistant and a body that is waterproof.

The Sony Xperia Z2 has a super fast processor in a tablet plus Sony's latest battery saving technology,  providing speedy and long-lasting performance to keep up with your daily activities. The 6000mAh battery plus STAMINA Mode can get you through longer than expected days of travel providing up to 10 hours of multimedia use. Additionally, the speed of the Snapdragon 801 processor paired with that of Verizon's super fast 4G LTE network, helps you share your photos and files faster and stream your audio and video more smoothly.

An entertainment powerhouse with the best of Sony technology and content
Bringing  together the best of Sony's BRAVIA® TV and audio technology expertise, the Xperia Z2 Tablet lets you enjoy your entertainment in vivid detail. As the first 10.1" Full HD TRILUMINOS™ for mobile  display with Live Color LED technology2, the Xperia Z2 Tablet delivers an enhanced viewing experience with bright, true to life colors and sharp images. Through Sony's Front Surround™ audio technology the device channels powerful, dynamic sound the way it was intended to be heard. Also, with digital noise canceling support3, the Xperia Z2 Tablet can help minimize background noise, even when you're on the move.

With the purchase of an Xperia Z2 Tablet, Verizon Wireless customers will have access to an exclusive entertainment offer. The bundle gives Xperia Z2 Tablet owners six blockbuster movies, an exclusive early access pass to "The Amazing Spider-Man 2" when it becomes available for digital download, and 90 days of free music streaming through Sony's Music Unlimited4.

For a broader gaming experience, the Xperia Z2 Tablet comes pre-loaded with the PlayStation®App which offers "PS4" integration; second screen gaming experiences; on-the-go access to the PlayStation®store to buy games and push them to your "PS4"; and access to the PlayStation®Network to stay connected with your friends.

An ecosystem of accessories
To expand the consumer experience, premium accessories will also be available from Verizon Wireless to complement your Xperia Z2 Tablet experience with additional accessories forthcoming:

SCR12 Style Cover Stand – protect and display your tablet in style
BSC10 Bluetooth Speaker with Magnetic Charging Pad – enjoy dual-purpose audio and charging
SRS-X3 Portable Bluetooth Speaker – delivers amazing audio, One-touch listening convenience, and hands-free calling
CPF-10L Portable Power Supply – power up your smartphone and tablets anytime, anywhere
DK39 Magnetic Charging Dock – prop up your Xperia Z2 Tablet in the dock and watch movies while your tablet charges
SmartWatch2 Pro – take the Android experience beyond your tablet or smartphone to stay connected on the go and stay active with a silicone wrist strap and Runtastic app or keep it productive with a leather wrist strap and the TouchDown app
SmartBand – automatically log your movements, communication, entertainment, and bookmark special moments to watch your life played back on the Lifelog app

"From our Xperia Z2 Tablet and accessories to exclusive Sony content and experiences, we're pleased to be working with Verizon to bring a strong Sony proposition to their customers," said Ravi Nookala, President, Sony Mobile Communications North America. "This newly forged relationship with Verizon is an exciting proof point as we continue to build momentum in the U.S."

Availability
Pre-order for the Xperia Z2 Tablet LTE at Verizon Wireless will begin on July 10, 2014 at www.verizonwireless.com. The tablet will be available for preorder online starting tomorrow for $599.99, and for a limited time, the tablet will be available for $499.99 with a new two-year activation. Customers who pre-order the device will receive a MDR-NC31EM Noise Cancelling headset for free, while supplies last. The Xperia Z2 Tablet is expected to be available nationwide at Verizon Wireless retail stores, select national retailers and dealers and online beginning July 17, 2014. For more information, visit http://www.sonymobile.com/us/products/tablets/xperia-z2-tablet/specifications/#tabs.

1 In the US, the Xperia® Z2 Tablet is a waterproof (in compliance with IP55/58††) tablet. Specifications verified by Strategy Analytics' SpecTRAX service as of 17th April 2014, for more information on Strategy Analytics results go to: www.sonymobile.com/testresults. In compliance with IP55 and IP58, Xperia® Z2 Tablet is protected against the ingress of dust and is waterproof. Provided that all ports and covers are firmly closed, the tablet is (i) protected against low pressure jets of water from all practicable directions in compliance with IP 55; and/or (ii) can be kept under 1.50 meters of fresh water for up to 30 minutes in compliance with IP58.

2 Xperia® Z2 Tablet features a unique TRILUMINOS Display with Live Color LED. Specifications verified by Strategy Analytics' SpecTRAX service as of 21st February 2014.

3 MDRNC31EM headset is required to achieve noise cancelling.

4 Sony Entertainment Network services are subject to availability by region. Please visit www.sonyentertainmentnetwork.com for more details.