I'm all for being able to record everything that goes on. Sadly we live in a time where you can't even trust the police, yes that might sound paranoid but just read the news and you'll understand. We almost need to have something on us recording us at all times so we have proof of whatever it might be and Swann just came out with something that might be a help called the HD RemoteCam. This little camera looks like a car remote keychain but it can record 720p video and still photos without anyone knowing. Legibility is questionable of course, at least in my state, but other states aren't as strict. Anyway, the camera comes with a 2gb microSD card but can be upgraded and the built in battery can record up to 60 minutes of video on a single charge. Price is $69.99 and it's available at several popular places online and off..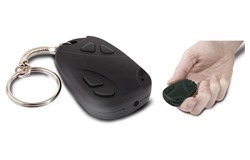 Swann Security, global leader in security monitoring, introduces the HD RemoteCam, the newest product in their line of covert recording devices. Designed to resemble a car remote with keychain, the HD RemoteCam allows users to discreetly record high definition videos, photos and audio at the push of a button and then share on their favorite websites.

The camera features a built in microphone and a fixed focus lens that captures full color, high definition 1280x720p AVI video as well as still photos (1600 x 1200 pixels). Press the record button quickly to snap a photo, or press and hold the button to record video. HD RemoteCam will begin shooting video and continue to do so until the user presses the button again. An LED light lets users know they've turned on the power, but the light will turn off while recording in order to complement the stealth design.

HD RemoteCam comes equipped with a 2 GB microSD card to store up to 20 minutes of video. After recording, users can easily transfer videos and photos to their computer via the USB cable and then share them to Facebook, YouTube, and other favorite sites. The USB cable also doubles as a charger and once fully charged, the HD RemoteCam's built–in battery offers 60 minutes of recording time.

Perfect for capturing life on the move, HD RemoteCam is great for lawyers, law enforcement, mystery shoppers, covert surveillance or YouTube fun.

Available

The HD Remote Cam is available at Amazon, Fry's, Tiger Direct and B&H stores nationwide for $69.99.