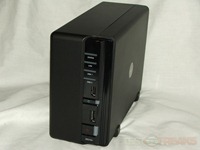 Synology has officially released the new operating system for their NAS Boxes, DSM 3.0.  I've been using it since the beta came out and it's certainly different and offers quite a lot of new features.
Synology will release DiskStation Manager 3.0 for all x07 and newer DiskStations as a free download at synology.com. After a successful beta period, the production version will include polished features such as the new multi-tasking web UI, Windows ACL support, IPv6 integration, WebDAV support, EXT4, enhanced Surveillance Station 5 and support for both iPhone and Android versions of Synology apps.
DSM 3.0 marks the debut of a wholly-new UI for DiskStation Manager. Resembling more of a desktop experience users will be familiar with, DSM 3.0 will serve as the platform by which future versions of DSM are enhanced upon.
DSM 3.0 is the first NAS operating system that offers a personal touch to the user interface, realizing the idea of software personalization. The revamped user interface is a true multi-tasker, allowing you to switch between applications all under one browser tab, no more waiting for reloading of the webpage.
Additional features can be seen can here: http://www.synology.com/us/products/features/index.php
DSM 3.0 is available for free download here: http://www.synology.com/support/download.php?lang=us