Thecus just announced that they're going 10Gb, as in ethernet speeds! Too bad there's not much else out there that can do it just yet. On the other hand you'll be future proof right? Or you could get the card and one of their Nas boxes that are 10Gb ready and you'll be set with some nice fast speeds.
As digital files grow larger in size, the amount of data being transferred over networks is ever increasing. Today, Thecus Technology is pleased to announce the C10GT 10Gb Ethernet PCI-e Adapter. Featuring lightning-fast transfer speeds, dual cable connectivity, and simple installation and setup, the C10GT is a high-speed 10Gb ready network card designed to help users affordably take full advantage of the new upcoming 10Gb Ethernet standard.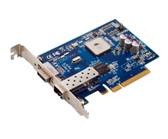 The C10G T is a very capable and feature-packed network adapter. Powered by the enterprise-class Tehuti Luxor TN3020-D processor, the C10GT delivers efficient high-bandwidth access to server and storage applications, while requiring relatively low power for operation. Another standout feature of the C10GT is its dual cable interface, which features one CX4 port and one SFP+ port – perfect for accommodating both copper and fiber optic cabling.
On the software side, the C10GT is an extremely flexible device which is easily integrated into almost any network environment. It is compliant with IEEE 802.3ae, IEEE 802.3ak, and IEEE 802.1q VLAN standards, and supports a multitude of widely-adopted operating systems, including Windows® Server 2003, Windows Server 2008, Windows XP, Windows Vista, and Linux.  The C10GT is also compatible with the Windows Management Interface (WMI), allowing administrators to easily manage both local and remote computers.
This full-height PCI-e adapter is easily installed in both PCI Express x4 and x8 slots, and can even be used to upgrade the following Thecus NAS devices to 10Gb Ethernet capability:
· N7700PRO
· N7700+
· N8800PRO
· N8800+
"Next-generation 10Gb Ethernet is going to be the new standard for enterprises of the future," said Florence Shih, Thecus® Technology General Manager. "With our new C10GT, businesses can fully leverage the speed and convenience of this advanced technology today."
For more information on the C10GT, check out:
http://www.thecus.com/products_over.php?cid=54&pid=338&set_language=english