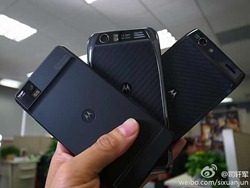 Today we've received news that's leaked out of China, courtesy of Weibo.com: Motorola is planning to bring three models of the Motorola RAZR to the country, including two that are entirely new. Let's have a look!
XT928
This phone, which is on the left of the picture, is an unusual looking RAZR handset with a clunkier look, including a clean back with no Kevlar façade. The phone's rear boasts of a monstrous 13 megapixel camera with dual LED flash. It also includes mention of its support for Dolby Digital Plus, a certification that should mean this phone is ideal for playing movies for your HDTV.
The XT928 is expected to be released in the US sooner rather than later, as the Droid X3. It was even spotted by an eagle-eyed reader in a Starbucks near Motorola's US HQ.
MT917
The MT917 is even more exciting. As you can see in the middle of the photo, it does include the trademark Kevlar backing, but also includes that strong 13 megapixel rear snapper. The phone also sports a 4.5" HD display, increasing its thickness to 8.1 mm and weight to 138 g. Still quite a light phone!
The two phones are expected to be released in China before the end of the year, but won't work in the US or EU thanks to different mobile standards in use for each. We'll just have to wait for a worldwide release; given the predilection of mobile manufacturers to release updated versions of their most popular phones, we shouldn't have too long to wait — maybe a few months?
This article was written by William Judd. William writes for Mobile Fun, the UK's leading online retailer of Motorola RAZR accessories, including Motorola RAZR cases and Motorola RAZR covers.