I love the different watches at Tokyoflash, they're just so wild. They've started to produce watches that regular people are submitting as concepts to their blog. The users vote on them and they create them, good idea for new ideas! The latest is the Kisai Console and it's a rechargeable watch via USB that gives you one month run time on a 3.5 hour charge, that's not bad. Unlike some of the other Tokyoflash watches this one is very easy to read but yet retains the unique style of Tokyoflash watches.
Today Tokyoflash releases its first new limited edition watch design of 2011,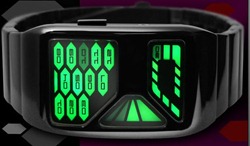 Vivid green lights illuminate three separate screens as you touch the button to activate the display. The system is online and fully operational. It's time to take control of your wrist wear with Kisai Console.
Kisai Console is a USB rechargeable watch design. The USB cap is fitted flush against the case and can be unscrewed with the screw driver provided. To charge, simply connect to your computer with the USB cable provided. One full charge will take 3.5 hours and each charge should last 1 month. There are 300 charges in one battery and the battery is replaceable.
A user selectable animation is programmed into Kisai Console for night time. Every fifteen minutes between 18:00 and 24:00, all LEDs will illuminate before fading out.
Simple to read at a glance, Console's display separates time into three separate zones. Hours 1-12 are the shown by digits in the upper window. Five minute intervals are shown in the lower window progressing in a clockwise direction from bottom left and single minutes 1-4 are shown in the central window.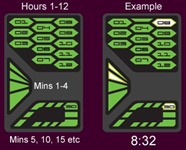 Specs:
Displays the time
IP black stainless steel case & strap
USB rechargeable: unscrew USB cap & connect to your computer
USB cable and screw driver included
LED animation option (can be turned off)
Clasp: simple fold over clasp with push button
Minimum wrist size: 100 mm (approx.)
Maximum wrist size: 210 mm (approx.)
Case dimensions: 30 mm x 50 mm x 11 mm
Weight: 160 grams
Water resistance: 3ATM
Battery: LIR2032 rechargeable & replaceable watch battery
Japanese and English instructions
One year manufacturer's warranty