Technologies and Systems Research Pte Ltd is bringing in the first Singapore designed and made Pico-projector – one of Singapore's first mini pocket-size projector, a projector that weighs just 180g with the battery included. It is targeted at working professionals as well as students on the go, conveniently allowing them to make presentations and watch movies anywhere.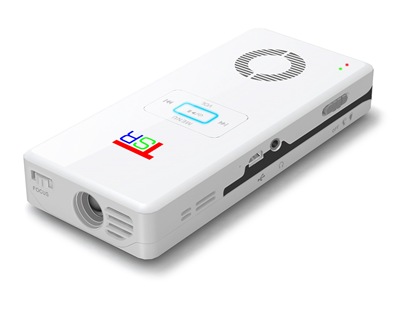 The Pico-projector is currently the only projector which is capable of supporting the native computer VGA connection and the built-in video player supporting MP4 on a portable projector. It also has sufficient memory space for key presentations to be stored inside and played without attaching it to a computer if necessary.
For now the mini projector comes in 1 model: the TP-100 M and white. This model come with a VGA connector, 2-Step luminosity, built-in video player, quality stereo speakers and ultra-battery life. The projection technology which TSR is capable of now includes white LED and RGB LCos Panel. This means higher viewing quality and thus a better user experience.
Currently the projector is unable to support pdf and ppt. formats, however, TSR is seeking to further develop and expand its product roadmap, such as mini-projector with 30 Lumens and another pico-projector with a built-in WinCE OS which is excellent for showing native powerpoint presentation. It aims to be the leader in providing leading mobile technologies solutions.
OPTICAL
Resolution      640 X 480 (VGA)
Luminous Flux      10 Lumens
Grey Scale      8 bits (256 steps)
Projection Size      6" – 50" (150mm – 1270mm)
Projection Distance    245mm – 1800mm  
Aspect Ratio      4:3    
Light Source      White LED    
Focus      Manual    
Lifetime      20,000 Hours
INPUT SIGNAL
Video Source      VGA (DE-15)/AV(Composite)  
Video Stream      NTSC/PAL/CVBS/RGB 24-bit/  
      ITU-601/656    
Internal Flash      1 GB    
Memory Card      T-Flash    
Audio Format      MP3/MPEG1/MPEG2/WMA/WAV/
      APE/FLAC/ACC/ACC+  
Video Format      AVI/MPEG1/MPEG2/MPEG4/  
      ASF/RM/RMVB/FLV/WMV/3GP  
Photo Format      JPEG/BMP/GIF  
POWER
Power Consumption    4-6W    
Battery      1,500mAh    
Operation Time      2 Hours (Normal Luminosity)  
Charging Time      4 Hours    
Audio Spekar      1W x 2 Stereo  
CONNECTORS
Video Input      DE-15/Composite  
Audio Input      3.5mm stereo    
Audio Output      3.5mm stereo (Line Out & Earphones)
USB      USB 2.0 (USB Mass Storage Transfer)
Memory Card Slot    T-Flash    
DC Jack      5V (Battery Charging) 
PHYSICAL
Dimension      125.6mm L X 55 mm W X 19.5 mm D
Weight      160g (Battery Included) 
ACCESSORIES
Power Adapter      Included    
USB Cable      Included    
VGA Cable      Included    
AV Cable      Included    
Lithium Rechargeable Battery     Included    
Remote Control Unit    Included    
Tripod Stand      Included 
About TSR
Technologies and Systems Research Pte Ltd aims to be an innovator of portable display products to enhance the mobility of working professionals. Our mission is to pursue innovative portable display solutions and create affordable consumer products to dramatically enhance the mobility our customers needs. Other innovative products under TSR include Tablo, a pen input device for laptop which performs a full tablet function with simple installation.
TSR company website – http://www.tsr.com.sg