Some more Windows 8 news, Velocity Micro is all ready to go for Windows 8 it seems as they've just let us know that they're ready to ship desktops and laptops equipped with Windows 8. Not much else to say really, it's a short PR, just an announcement really.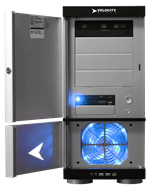 Velocity Micro®, the premier builder of award winning enthusiast desktops, laptops, peripherals, and the remarkable line of Cruz™ tablets is now shipping desktops and laptops powered by Window® 8. Designed, built, and supported in the USA, Velocity Micro desktops powered by Windows 8 start at just $749.

"Our customers have been eagerly anticipating the release of Windows 8 for quite some time," said Randy Copeland, President and CEO of Velocity Micro. "We're excited to begin shipping to them. And with the enhancements that Stardock's Start8 solution offer, not only will customers be getting all of the great upgrades that come with Windows 8, but they'll also be getting some of the functionality they've become familiar with from Windows 7."

In addition to the new features, enhanced access to apps through the new Modern UI, and multitude of other enhancements made available by Windows 8, Velocity Micro will also be offering Stardock's Start8 App as an option on all systems. Start8 adds the Start button menu that Windows users have become familiar with back to the Windows 8 taskbar. The solution allows the user to further customize the Windows 8 interface for one click shut down or access to documents and folders, ability to pin apps to the start menu, or to boot directly to the Windows 8 desktop.

Velocity Micro will continue to offer Windows 7 as an option along with Windows 8 on all systems. To configure a custom desktop or laptop with either Windows 7 or Windows 8, visit www.velocitymicro.com.