I've already reviewed the Droid 2 here on technogog, and it's a decent phone that can only be better now that it looks like R2-D2 right?!  It's going to be a limited edition phone that comes packed with some special edition stuff not to mention it looks like R2D2. My VZ contact let me know that I'll have one shortly to show you guys, it won't be a full review as it's the same phone really, but I will hit the highlights for you of course.
Verizon Wireless announced that the highly anticipated limited edition DROID™ R2-D2™ by Motorola will be available online at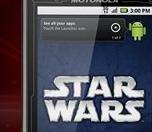 Star Wars Mobile App Available for All Customers with Android 2.1 phones
To celebrate 30 years since the film hit theaters, customers with Android devices running Android 2.1 or higher will soon be able to get the Empire Strikes Back app from Android Market™. The app, only for Verizon Wireless customers, allows Jedi Masters to browse, preview and download Star Wars content related to Star Wars: Episode V The Empire Strikes Back.  Verizon Wireless customers can access premium Star Wars content for a one-time charge of $2.99.
The Star Wars mobile app will have the following features and content:
· Bounty Hunt Visual ID: Find and capture images around the Star Wars universe to unlock hidden content
· Sound and Photo Gallery
· Live Wallpapers:
o Blast the Probe Droid
o Luke Balancing Yoda
o Navigating the Asteroid Field
o Watch Bespin's Cloud City
· Trivia Challenge: Answer trivia questions about the Empire Strikes Back
· Widgets
The DROID™ R2-D2™ by Motorola will be available for $249 after a $100 mail-in rebate with a new two-year customer agreement. Customers will need to subscribe to a Nationwide Talk plan or a Nationwide Talk & Text plan (beginning at $39.99 monthly access) and an Email and Web for Smartphone plan (beginning at $29.99 for unlimited monthly access). Customers will receive the rebate in the form of a debit card; upon receipt, customers may use the card as cash anywhere debit cards are accepted.
For more information on DROID™ R2-D2™ by Motorola, go to www.droiddoes.com/r2d2.