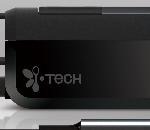 For some reason I like BT headsets, I'm not sure why but I kind of collect them. I've got quite a few of them, but out of all the ones I've got I always seem to got back to the Jawbone2, I've yet to find one to replace it. i.Tech Dynamic has introduced the VoiceClip 604 that's not your average BT headset, it's the kind that clips to your clothing.
VoiceClip 604's unique clip design enables the base unit to be affixed to the user's clothing. An attached cord connects the earpiece and includes an in-line microphone. The microphone's positioning close to the user's mouth enhances voice quality and reception.
In addition, the base unit and earpiece are magnetized, so they stick together when the user is not on a call, which prevents the earpiece from dangling.
Other features and specifications include:
    
    -- Bluetooth Version 2.1 + EDR Class 2
    -- Headset and hands-free Bluetooth profiles
    -- Micro-USB charging connector
    -- True multipoint for connecting with 2 phones
    -- 3 modes buzzer alert for choice
    -- Volume adjust, call transfer, call reject
    -- Range:         Up to 33 feet
    -- Charge time:   Less than 3 hours
    -- Talk time:     Up to 8 hours
    -- Standby time:  Up to 6-7 days
    -- Dimensions:    1.89 (L) x 0.77 (W) x 0.39 (T) inches/
                      48 (L) x 19.5 (W) x 10 (H) mm
    -- Weight:        0.51 ounces/ 14.6 grams