Wow, Angry Birds must be making some decent money to pay for a 30 second Super Bowl spot! Then again I guess this is in conjunction with 20th Century Fox, who we know has the money, but still they're betting a lot on the success of the movie. When you're watching the Super Bowl on Sunday, and I will because my hometown Steelers are in it, be on the look out for the Angry Birds ad that includes a code to unlock details to a special level in Angry Birds and info on the Sweepstakes.
This Sunday, Twentieth Century Fox's upcoming animated motion picture event RIO will make Super Bowl commercial history, when the 30-second RIO spot becomes the first-ever to air with an embedded code.
Super Bowl fans in the United States watching RIO's new commercial spot are invited to find the frame with the embedded code that will in turn direct them to a special level on ANGRY BIRDS, Rovio's blockbuster game, which recently entered into a first-of-its kind partnership with RIO. That level will take you to a RIO sweepstakes.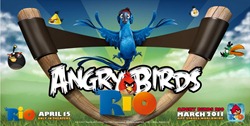 The sweepstakes winner will attend RIO's world premiere in Rio de Janeiro on March 22. That same day, Fox and Rovio launch the highly anticipated "Angry Birds Rio" app.
The spot will be available across the web, including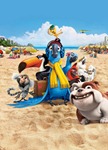 About RIO
From the makers of the hit ICE AGE series, RIO is a comedy-adventure, in 3D, about taking a walk on the wild side. Blu is a domesticated Macaw who never learned to fly, living a comfortable life with his owner and best friend Linda in the small town of Moose Lake, Minnesota. Blu and Linda think he's the last of his kind, but when they learn about another Macaw who lives in Rio de Janeiro, they head to the faraway and exotic land to find Jewel, Blu's female counterpart. Not long after they arrive, Blu and Jewel are kidnapped by a group of bungling animal smugglers. With the help of street smart Jewel, and a group of wise-cracking and smooth-talking city birds, Blu escapes. Now, with his new friends by his side, Blu will have to find the courage to learn to fly, thwart the kidnappers who are hot on their trail, and return to Linda, the best friend a bird ever had.
RIO arrives in theaters everywhere April 15.
NO PURCHASE NECESSARY. Starts 2/6/11 at 4:00 pm PT, and Ends 3/1/2011 at 11:59 pm PT. Open only to legal U.S. citizens, 18 and older and is subject to Official Rules. For Official Rules visit http://www.rio-themovie.com/officialrules. For alternate means of entry without a purchase, visit http://www.rio-themovie.com/win. Odds of winning depend on number of entries. Void in Puerto Rico, and where prohibited. Winner and guest are each required to have a valid U.S. passport and to obtain a visa to Brazil.