WD is continuing to expand its WD TV media player family content offering with the addition of TuneIn Radio, the world's largest Internet radio guide with access to over 30,000 free radio stations searchable by location, genre, or format; and Deezer, a personalized on-demand music service for listening to 7 million tracks anytime, anywhere and one of the most popular Internet and mobile music offerings in Europe.
TuneIn Radio is now available on WD TV Live network media player, WD TV Live Plus media player and WD TV Live Hub media center. Deezer already available on WD TV Live and WD TV Live Plus network media players, is now being added to WD TV Live Hub media center.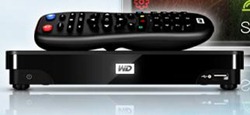 Since launching its WD TV product family in 2008, WD has sold 2.5 million WD TV media players. An increased customer demand for more premium content services has led to the addition of these two new features for an even more seamless and enjoyable entertainment experience!
With 1 terabyte of storage capacity, the WD TV Live Hub media center allows consumers to create a personalized media jukebox that securely stores and plays their own selection of personal and Internet media content on any screen within the connected home in full 1080p HD.
TuneIn Radio and Deezer can be downloaded now at http://www.wdc.com/wdtvliveupdates.
All WD TV owners will receive an automatic notification.
PRICE and AVAILABILITY: MSRP for the WD TV Live Hub media center is $199.99 USD. The WD TV Live Hub can be purchased at select U.S. and Canadian retailers and online at wdstore.com.