Generic, No-name, Off-brand or whatever you want to call it, a lot of people shy away from anything that isn't a major name brand product but from my experience they can be just as good if not even better sometimes than that popular brand named product. I've also come to realize that name brand or off brand, both can fail anytime and just because something costs more doesn't necessarily mean it's better!
I've recently been introduced to a company called Tmart where you can find great deals on numerous products, be them name brand or not. They've asked me to review a few of their products and I have one of them today which is the 1.5″ 16MB Key Chain LCD Digital Photo Frame White & Silver. That's the actual product name from their website, no name brand or nothing like that and it only costs $7.94 and that's including free shipping! Overall it's not a bad deal. The frame can store up to 150 photos and has several options and best of all I think is that it has a rechargeable battery.
Key chain style digital photo frames aren't that exciting to me but I've found they do make great gifts, I like to fill them up with pictures of the kids and give them to family members. It's a sort of useful but it can certainly be a very personalized gift.
The packaging is fairly generic, but it does have information on it about the photo frame inside.
Once you get everything unpacked you'll find a USB cable, key chain, the photo frame and a user manual. The user manual is pretty badly written in what I would call broken English but you can get the idea of what you need to do, even though the frame is fairly easy to use. I didn't even read the instructions honestly and I was able to figure it out just fine.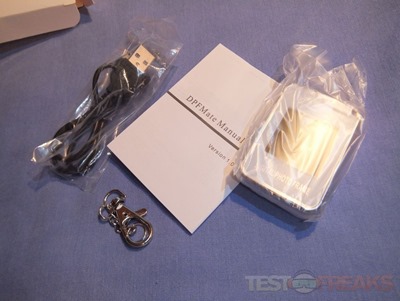 The frame itself is made of plastic and it has a 1.5" LCD screen in the center. It's fairly plain looking but it seems well made for the most part, it's lightweight and should be fine in a purse or bag but I 'm not sure how well it would last if it was in your pocket with metal keys.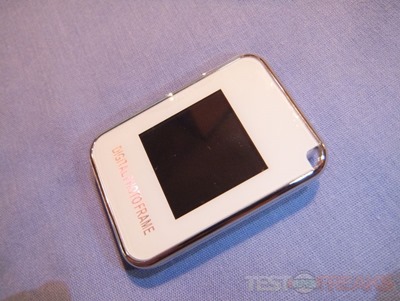 On the side you'll find the USB port which is used for charging and transferring pictures.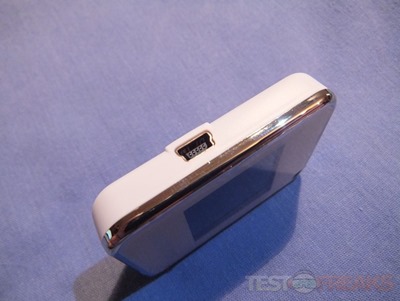 On the back of the frame you'll find a hole to reset the frame and buttons for up, down and menu which are used to navigate the pictures themselves and for the menu you'll find the device.
On the top corner is the place for the key chain, it's actually rather hard to get on.
Specifications and Features

1.5″ 16MB Key Chain LCD Digital Photo Frame White & Silver
The living photo frame, let the memory move!
It is so small and exquisite that you can hand on the key chain to anywhere, convenient to carry. The digital photo frame will provide internal storage space to access external memory card, and the built-in capacity can up to 16MB. What's more, it has clear display picture and bright colors as its 16:9 widescreen. Digital Photo Frame makes connecting with friends and family simple.
Features:
-High resolution
-Adjustable contrast, wide viewing angle, the picture clear, bright color
-Auto Browse screening function, playback
-Image playback speed can be adjusted, the speed of image switching transitions can also be self-regulation
Specifications:
LCD: 1.5 inch 16:9 digital LCD screen size
Support Picture Format: JPEG
Flash: 16M memory
Image resolution: 128 x 128 DPI
Stand-by time: 30 days
Display time: 3 – 4 hours
Color: White
Weight: 4.13 oz
Package Includes:
1 x 1.5″ 16MB Key Chain LCD Digital Photo Frame White & Silver
1 x USB Cable
1 x Key Chain
Price: $7.94
So to use it you'll need to charge it, this is done via USB, so it's simple to do. The battery should last for 3-4 hours or continuous use, which really if you think about it is a very long time when it comes to looking at pictures. Depending how many pictures you have on the frame, it'll only take a minute or two to look through a lot of them. The standby time is rated for 30 days, so basically once a month you'll need to charge it I would think. This is one of the features I really like, it's a rechargeable battery right over USB, so you don't have to worry about buying batteries for it.
When you first turn on the digital photo frame you'll find some sample pictures already there for you: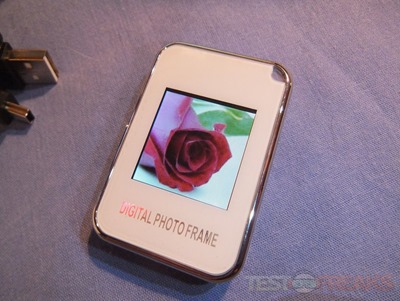 Pressing the menu button on the back of the frame brings up the menu with options for USB Connect, Clock, Slideshow, Auto Off, LCD Contrast, Backlight, Delete, Off, Language and Exit.
I think most of the menu choices are self-explanatory as they're just for the settings really. To get your pictures on the frame though you'll need to activate the USB connection via the menu. Once you select USB Connect your computer will recognize it and install the drivers and it will show up on your computer actually as a CD drive.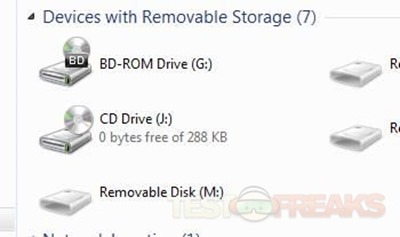 When you open the drive you'll find both Windows and MAC software. To get started just double click the DPFmate program. I don't have Autorun enabled on my computer but if you do it should start automatically.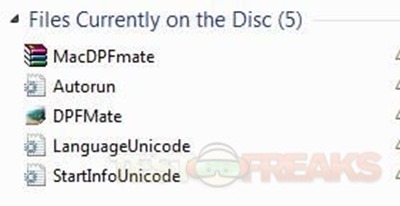 The DPFMate software is fairly simple to use, navigate to your pictures on the left side, choose what you want to add and then crop them at the bottom to fit the frame, then click the 'Add' button and it will appear on the right side. you can add up to 150 pictures to the frame storage, and once you're done adding just hit the 'Download' button and they will all be transferred to the digital photo frame over USB.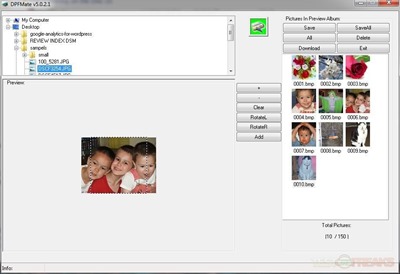 Sadly you must use this software interface, you cannot just drag and drop them onto the frame, but the software resizes the pictures for you and puts them in the correct format for the photo frame, so I think using the software removes many steps you'd have to take to get the pictures on the frame. So yes you must use it, but it's easier than the alternative…
Taking pictures of pictures isn't the best, but I guess it works here as I'm taking a picture of the display right? Here's a few examples of what some of my pictures look like on the frame: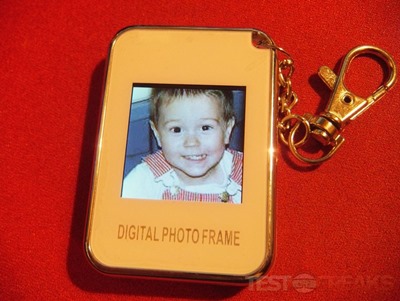 If you look very closely the pictures are pixelated but it's only 128x128dpi, so one can't expect HD quality here, and you also have to remember it's a very inexpensive product.
The viewing angle is decent for the right, left and from the top but viewing from the bottom isn't that great but that's the way with most LCDs I would think, especially inexpensive ones.
The colors are average, they are effectively low quality pictures, but the original colors are there and you can make them out just fine.
Conclusion

For what it is, it's an inexpensive device that does what it's supposed to do, plain and simple.
For the most it's fairly easy to use, just plug it in and select USB connection and start up the software. I did find that sometimes the USB connection would drop, but other than that it worked fine.
As a guy this isn't exactly the most exciting product out there but I can tell you that most women love them. I've bought these in the past and put photos of the kids on them to give to their grandmas and other relatives and they just loved them. They make great gifts, especially when you fill them with pictures that at meaningful. These would make great gifts for Mother's Day or Grandparent's Day or Christmas. When my Mom was alive she carried the one I gave her with her everywhere to show off her grandkids to everyone, it's a lot easier than carrying actual pictures surely. It's a simple, inexpensive product but it's one that can actually make someone happy.
Pros:
+Inexpensive
+Decent battery life
+Easy to use
+Rechargeable battery
+Holds 150 pictures
Cons:
-User manual could be better
-Sometimes connection drops
-Must use software to transfer pictures
| | |
| --- | --- |
| Grades: | 8 out of 10 |
| Overall | |
| Design / Aesthetic | |
| Value / Price | |
| Performance / Usage | |
To learn more about our review policy please visit this page HERE.