High Definition content is not limited to HDTVs, many people, myself included like to watch movies on our PCs, but to really enjoy the experience you need a full HD monitor. The majority of these monitors are rather expensive, especially for the larger sized one, but you can get them inexpensively if they are refurbished. Buying a refurb monitor is something that many people will stay away from, but I've never had any real problems with them. I've bought them myself and received them for review so there's no bias involved there, I've had the same experiences either way.
Today for review Geeks.com has sent me over the  Hannspree 23" 1080P LCD monitor. Hannspree is company that is well known for making excellent quality and good performing products. The monitor I've got for review is a refurbished one so it does cost a bit less that it would buying it new, and I haven't run across any dead pixels or problems with it so far. This monitor features a 5ms response time in addition to having a contrast ratio of 15,000:1, so it works very well for everything from gaming to movie watching.

This is one of those computer monitors from Geeks that is refurbished so it comes in a plain brown box, in other words no retail packaging, but it was packed well for protection.
There was no instruction manual included, but I got one easily off of the Hannspree website, though you really don't need it just to hook it up. Included with the monitor is the base, audio cable and a VGA cable.
The Hanspree HF237 is one of those 23" Monitors that has a glossy bezel on it. I'm not sure when glossy became popular but I don't care for it, I don't like the glare and reflections you get from them. Up on the right side you'll find three little stickers, one is the Energy Star logo, under that is an Eco Friendly logo and beneath that is the Certified for Windows Vista logo. The Hannspree HF23 is supposed to use less power than others on the market making it energy efficient.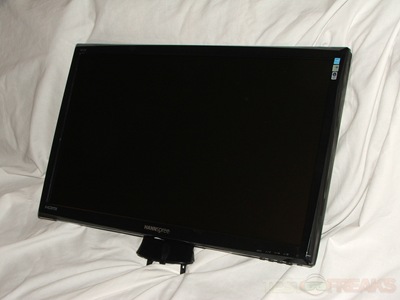 On the bottom right corner of the bezel, under it actually you'll find the controls for power and settings.
On the back you'll find four mounting holes in the center. Underneath the lip of the cover is where you'll find the connections. On the left side is where the power connector is while the right side is where you'll find the video and audio connections.
Specifications:
23″ Hannspree HF237HPB HDMI Widescreen LCD Blu-ray 1080p Monitor w/Speakers & HDCP Support (Black)
Price: $145.99
With Full HD 1080p support, you can enjoy high-def games and Blu-ray movies in 1920 x 1080 resolution! This spacious 23-inch monitor will bring smooth, blur-free motion to all your onscreen action, thanks to the 5 ms response time. Plus, the X-Contrast ratio of 15000:1 and the 300 cd/m2 brightness ensure a crisp, vibrant-colored display. Oh, and you won't have to worry about getting an external source for audio — the HF237HPB already has speakers built in for added convenience.
Features/Specifications:
General Features:
* Black, glossy bezel
* 23-inch TFT LCD active matrix display
* 1920 x 1080 Full HD resolution
* 16:9 widescreen aspect ratio
* 300 cd/m2 brightness
* Pixel pitch: 0.266 (H) x 0.266 (V) mm
* 5 ms response time
* Contrast ratio: X-Contrast 15000:1, DCR 1000:1 (typical)
* Displayable colors: 16.7 million
* Viewing angle: 170° (H) / 160° (V)
* Integrated 1W x 2 channel stereo speakers
* Color temperature: Warm, Nature, Cool, User Mode
* Horizontal frequency: 24 to 83 kHz
* Vertical frequency: 50 to 75 Hz
* Comes with tilt adjustable base
* 100 mm x 100 mm wall mountable
* Certified for Windows Vista
Connectors:
* HDMI (w/HDCP)
* 15-pin VGA
* Audio in
* 3.5 mm Headphone
Dimensions w/Base:
# 16 x 21.5 x 7-inches (H x W x D, approximate)
For installation I hooked up the Hannspree HF237HPB via HDMI to my Sparkle GTX260 video card. It was easy to do, I just had to use a DVI to HDMI adapter that I had lying around.
I should also not that I found no dead pixels at all on this monitor. When you get a refurb that's one of the things people worry and complain about, but I found none at all.
As far as colors are concerned everything looked kind of faded or washed out when I first turned it on. I played with the settings of the monitor itself and just couldn't get anything to look correct. I then went into the Nvidia control panel and found an option under 'Adjust Desktop Color Settings' for 'Digital Color Format', it was on RGB, but once I selected YCbCr444 all of the colors changed to the way they should be.
Once I changed than setting the colors were perfect, the blacks are very black, everything is nice bright and crisp. Taking a picture of the screen doesn't quite show you exactly the color look, but it's close.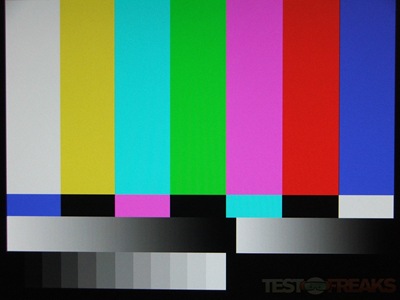 I've also just received the Spyder3 Express from Datacolor that I used with it as well, and it changed things a very little bit but not much at all from the settings I had them set on. So the default color settings are very close to what they should be.
As far as settings on the monitor itself, there really isn't that much to change. The on-screen display is divided into six parts with a few options for each selection.
There is a settings under Brightness and Contrast called X-Contrast, you can turn it on and off. I had it turned on for a while but eventually turned it off as I just didn't like how it worked. What I mean is that it automatically changes the contrast ratio, if you're watching something dark it seemed to make it much darker and watching something like a movie it would do that quite often with the levels of brightness or contrast always changing, it got to be annoying really so I ended up turning it off.
As far as viewing angle is concerned, the monitor can be viewed from most any angle with only the extreme viewing angles presenting any problems, for most people it should be fine.
I stuck a Blu-Ray movie in and watched it, I found no blur during movements and everything was clear, crisp and smooth overall.
The included speakers are decent, a bit tinny sounding but not bad overall. Obviously the built-in speakers are not going to provide you with a surround sound experience or any heavy bass, but for general uses and light movie or TV watching they should be adequate.
Gaming on this monitor is heavenly really, it's so nice to be able to run full 1920×1080 resolution. My other monitors are only 1680×1050 and I can see the difference easily between the resolutions. The motion is smooth, no blurring or anything like that at all in gaming. The response time seems fine for gaming.
With regular everyday work I found it does add quite a bit more desktop real estate, for instance in a word processes I can see two pages at once now on the screen.
I did run across one small annoyance with this monitor. When I put in a movie and go to full screen there's a good five seconds where it's just all black, I can still here the sound but just no picture. It's minor annoyance, but still annoying nonetheless.
I've never used an HDMI monitor with my PC until now so I can't compare to anything, and I did research this problem and couldn't find anything about it. My guess is that it has to do with the HDCP of the system itself. Maybe someone reading this can help me out with this one and why it does this..
Conclusion:
I'm truly impressed with this monitor, especially since it's a refurbished product. There are no flaws physically or internally, it looks brand new. It offers a very nice high definition experience overall for a low price.
I don't care for the glossy bezel, but there's not much I can do about the design of it.
The minor annoyance with the blacking out when switching to full screen is one that I can live with, but it's something that I'd like to understand why it does it.
Pros:
+Excellent picture for everything
+Easy to use and setup
+Inexpensive really
Cons:
-Glossy bezel picks up fingerprints, dust and reflects everything
-Rather long delay when switching to full screen for movies
| | |
| --- | --- |
| Grades: | |
| Overall | |
| Design | |
| Performance | |