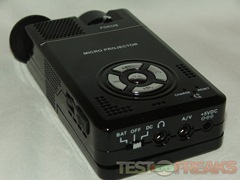 Projectors are something that most people don't really think about when they think of their audio and needs. One of the main reasons is that they can get expensive, not just the projector but you'll need a good screen to go with it. Projectors are also big and bulky, and it seems they require a bit of maintenance, I've read many times about the bulbs not lasting as long as they should and being expensive to replace. Recently though a few micro or pico projectors have come onto the market, these are nice but they're got one thing in common, they need some source to get the video from, the one I have today for review does not, it has a built in media player, which is a very, very nice feature.
Today for review I have the Pico p1 Micro Projector from AAXA technologies. This thing is small, not much larger than a smartphone, it will fit in the palm of your hand. The Pico P1 has a few great features like a built-in media player, dual power, long battery life, small and portable of course and it can also connect to devices like ipods, iPhones, cameras and most anything with an RCA style audio/video output. Those features don't mean much though is the picture quality isn't good, so continue on to learn more about the Pico P1…

First up we've got box shots for you, the packaging is well done, not too flashy, but it's got features and specs listed along with usage examples.
Inside we find everything packaged well, included with mine was a 1gb microSD card, I don't think that comes with the retail version though. The card has some video, E-book and picture samples on it, nothing special though. The Pico P1 does have 1gig of built in memory as well. Included with the Pico P1 is an instruction manual, audio/video cable and power adapter.
The Pico P1 small with dimensions of 4.1"x2.28"x1.02" or 105x58x26mm. It has a glossy black finish that easily picks up fingerprints, very annoying that is when trying to take pictures.
On the top of the P1 you'll find a navigation pad and LEDs to indicate power and charging.
There's not much to the back, just solid black but this is where the battery pack goes.
On the right side you'll find the microSD slot, it uses a rubber door like you'd see on cellphones, this is also where the speaker is located.
The left side is where you'll find the volume control and the USB port that utilizes the same rubber door style.
The Pico P1 does have a built in lens cover, directly behind the lens, on the top is the focus slide lever.
The back of the Pico P1 is where you'll find the headphone jack, A/V input, charging connection and the power switch.
Overall the build quality is decent, it seems sturdy and well made, and it's rather lightweight.
Specifications:
Aaxa P1 Pico Projector LCoS Hand-Held Micro Projector
AAXA Technologies announces the release of its P1 micro projector. Combining off-the-shelf components with AAXA's proprietary LCOS chip, AAXA's micro projector brings affordability to the pocket projector market while improving brightness and image quality. Weighing in at 6 ounces and no larger than most PDAs, this diminutive unit projects a usable 12 lumens at a resolution of 640×480. The unit is capable of producing excellent picture quality and brightness in most lighting conditions. Do not confuse the AAXA P1 pico projector with similar knock- offs. It features a superior optical engine and LCOS image for bigger, brighter, clearer images. The P1 has no image edge distortion and offers superior video processing for smoother, cleaner videos.
Picture quality is excellent in low-light conditions even with a 60" picture. Multiple input sources are accepted including VGA, Composite, as well as direct hook-ups to Ipods, Iphones, PSPs, and a myriad of cell phones. With 1GB built in and a micro SD card port the storage capacity is virtually unlimited. The onboard file menu and decoder plays virtually all media formats including MP4, AVI, WMA, JPG, GIF, etc. Battery life is rated at 45 to 60 minutes (depending on speaker use) and replacement battery packs are available. With an MSRP of $239 included with the projector is battery, composite input cable, and charger. Ipod / Iphone, PSP, and other input adapters are available separately.
First Pico Projector with onboard memory!
* 1GB onboard memory + microSD reader
* MP4, MP3, AVI, JPG, WMV decoder
* Projects up to a 60" image*
***(In low-light conditions)
* VGA (640×480) resolution
* RGB, iPod, PSP, PDA, DVD input
* 12 lumen LED light source
PROJECTION SYSTEM:
-Native Resolution: VGA (640×480)
-Brightness: 12 ANSI-Lumens
-Contrast Ratio: 1000:1
-Noise: 25dB
-Projection Lens: Manual Focus
-Projection Image: Available Size 7 ~ 50 inch
-Lamp: Single Chip White LED
–Life: 30,000hrs
-Projection Angle: 50°
GENERAL SPECIFICATIONS:
-Audio Output: Onboard 0.5w speaker
–Stereo speaker/headphone mini-jack
-Color: Glossy Black
-Menu Language: English, Korean, French, Spanish, German, Italian, Swedish, Portuguese, Chinese Simplified, Polski
-Aspect Ratio Control: 4:3
-Dimension: 105*58*26mm
-Weight: 180g
-Power Consumption: 0.9-1.5
-Power Supply: DC 1900 mAh battery
–AC100~240V(Free Voltage), 50Hz/60Hz
-Supported Formats: MP4/MP3/WMA/OGG/WAV/AVI/WMV/SMV/ BMP/JPG/GIF/TXT
INPUTS / OUTPUTS:
-Video In: Composite A/V (3.5mm Jack)
-Audio Out: 3.5mm Stereo Headphone Jack
-USB: 5 Pin Mini USB
STORAGE CAPACITY:
-Built in 1Gb flash memory + microSD/TF card reader

Before we get into all of this here, let me get my observations out of the way.
The first one is the lack of a carrying case, I believe this product very much needs one, yes there is a lens cover but for me it just doesn't stay on at all.
The second thing is the glossy black finish of it, while it looks nice, it won't last. What I mean is that the glossy black picks up fingerprints, dust etc, and it quickly does not look good anymore.
Thirdly, the fan is loud, there's a tiny fan built-in and it's a bit too loud for my tastes.
Another small complaint I could have is the volume, it can be low at times, but a lot of that has to do with the volume level of the source file which, at times, can't be helped and is not really a fault of the Pico P1 itself.
And yet another small complaint is the navigation of the menus, while you would think you use the buttons like arrows, you don't, it's just a bit hard to get accustomed to. Down does nothing, and you just use left and right to navigate up or down the selections. These are alll small things though, that don't really detract from the product overall.
Speaking of menus, the menus for the Pico P1 are all on-screen displayed. You've got choices for Audio, Video, E-Books, Photos, Explorer and Settings. One nice thing about the menus is that they only show what is for that selection, in other words if you pick photos, you won't have to scroll through movies as well to find them, only the photos will be displayed.
In the settings you can change a few things like desktop wallpaper or background images, language, and you can upgrade the unit if there's one available, there's also an option for system information.
The file browser is basic, you select the source and then the contents are displayed.
Here's a couple sample photos being displayed, they're not bad, but then again I don't have a projector screen either and was using paper and a white sheet for most of the projections.
Surprisingly an E-Book is very readable on the Pico P1, I wasn't expecting much here, and was pleasantly surprised.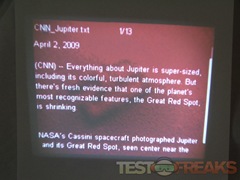 With my Pico P1, I also got the Apple iPod cable that AXXA offers, so I played some Witchblade for the sample pictures, anime works nice as it's usually colorful.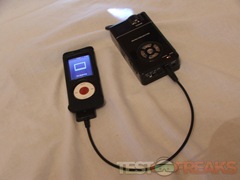 Here are a bunch of sample pictures taken during the daytime, afternoon, around 2pm. It was 86F and very sunny outside, so I turned off the lights and closed the blinds, the room was still fairly bright. You can also see when navigating the iPod it appears on screen in one of the last pictures. I tired with the lights on and the blinds open, but it was just too bright for the Pico P1, you could barely make out anything on the screen.
Now here are some more pictures taken at nighttime, around 9:30pm, all the lights off etc.
Overall it's not bad, these were taken with the projector at varying distances from two feet to five feet. As I said I don't have a projector screen so going for very far distances was just not going to happen for me unless I projected it on the wall or ceiling and the texture of both made the picture look bad honestly, so it wasn't worth using for the review. Even at farther distances, in low lighting the picture produced by the Pico P1 was admirable, the farther you get the darker the room needs to be though.
For how small it is I'm surprised at just how bright and how nice of a picture it is.
There are a few things I really like about this projector, the first being the picture quality, yes it's not high resolution, but for what it is it's nice. I also like the fact that you can expand the memory with a microSD card, though it doesn't accept SDHC cards so you are limited there a bit. One of my favorite things about this projector is that it's much more than a projector, it's also a media player, you can just throw a file on a card and play it, the player is built right into the projector itself, so it's a self-contained unit. I also like the fact that I can use external sources as well with the Pico P1, at the present time you can hook up a laptop, iPod and most anything that has RCA style video out on it, so the possibilities of uses are endless.
The battery seems to have a long life and it charges fast which is nice, I got the rated time out of it and a bit more. Another great feature is that you can use the Pico P1 with the battery or while it's plugged in and the power adapter is very small.
Conclusion:
The AXXA Technologies Pico P1 Projector is a very nice product overall, it works as advertised and truly surprised me by it's quality of not only the build but the output as well.
It's not perfect though, there are a few improvements that could be made to make it better, but as is it's not a bad little device. 
I've had a lot of fun with the Pico P1 and will continue to do so, my kids think it's very cool, and like me to project it on the wall for them to watch movies and such. Of course it can be used for much more than entertainment, I can see how this could be great for work and school presentations, it's small size makes it portable and the price is relatively inexpensive for what you get.
Check out more projector reviews at the main site
Pros:
Small, lightweight and portable
Nice picture at small sizes
Seems well made
Fairly easy to use
Dual power, battery or DC
Works with other devices like iPod, cameras etc
Built-in memory and expandable with microSD card
Built in media player
Cons:
No case
Lens cover does not stay on
Glossy surface picks up fingerprints, dust etc
Fan is loud
Only small capacity cards work with it
| | |
| --- | --- |
| Grades: |   |
| Overall | |
| Design | |
| Performance | |