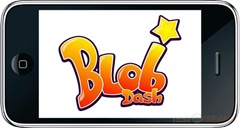 Founded in 2006, Q8IS Mobile Inc., based out of Montreal Canada, is yet another player in the mobile video game industry and the latest producers of Blob Dash for iPhone & iPod Touch. Blob Dash is a 3D puzzle strategy game puts you in the galaxy called Obozz, home to the Obo. A peaceful race of blob's that you must help escape from the arch nemesis Lord Gaggletron.
The object to Blob Dash is to survive the pitfalls of obstacles on a 3D map. You must strategize how to save your white blobs "Obo's" from grey, black and red blob's, oppressors of the evil empire of Lord Gaggletron. Each time you clear a map, you will go on to the next stage, as you progress, the land of Obozz becomes more challenging.
Sounds interesting enough but will this title live up to its expectations? With a myriad of games to choose from and cost of downloads to play them, there is a fine line between value and a good game. Basically, you either fall for marketing fluff or what the end user's review's have to say for final decision of purchasing a new game. In an ever increasing savvy world, the gaming geeks prefer the latter and so do we! Let's take a look…
With the lack of 3D game puzzle games for the iPhone & iPod Touch mobile platforms, Q8IS Mobile Inc. is hoping to tap into that genre with Blob Dash, by providing a balance between strategy and puzzle games for the casual gamer. At first glance, Blob Dash appears to have this newer segment covered. However, we are going to give the gaming freaks out there a technogog look at this product before you spend your hard earned cash on it.
The makers of Blob Dash have this to say about their latest title:
"This game is for all casual gamers – those who love cute things will love Blob Dash. And even those that hate cute things will have lots of fun destroying the blobs by blowing them up or squishing them," said Bob Quenneville, Vice President of Q8IS Mobile Inc. "We designed the game to be an entertaining mix of action and strategy, and it's perfect for mobile gaming because you can play it in short spurts whenever you want. It is also unique because it is one of the few 3D puzzle games available on the iPhone and iPod touch."
As a casual gamer myself, I do like action and strategy games, first person shooters and just about anything that keeps me focused, enthralled, captivated and coming back for more. Will it be fun destroying blobs in the galaxy of Obozz? Will cute little blob characters running around do it for me? Let's dig deeper…
Specifications:
Blob Dash
Blob Dash takes place in the galaxy of Obozz, home of the Obo, a race of cute peaceful blobs. One day Lord Gaggletron attacks their galaxy and using his mind control crystals transforms the nearby Obo into monsters who blindly serve him.
Your job is to lead surviving Obo by placing blocks, bombs, traps and other gadgets in their path to reunite them in liberating their galaxy from Lord Gaggletron and his crystals.
•18 Puzzles ranging from simple to challenging.
•3D environments with detailed textures and squish-able blobs
•Evil enemy blob.
•4 place-abe objects: blocks, bombs, traps, and one passes.
•Prefect badges. ("For those who like to master the game" Blob Dash Team.)

Blob Dash version 1.0 released May 13th 2009 weighs in at 7.2MB. Once installed on my iPhone 3G, I got into checking out the game title. Initial reaction was, okay this is a different kind of game, but for what age group? Chances are there has to be a target audience for this title. Right off the bat I could tell this is a game better suited for the younger crowds.
Sure, anyone can appreciate the fact Q8IS Mobile Inc., put some time and effort into the game and has talented team members, but first impressions are a little skeptical, in that the theme of the game does not appeal to me in a way that suggest I will be playing the title on a regular basis.
Trying to remain un-biased based on initial thoughts, I can see where Blob Dash will appeal to some of the masses, but again we have to factor in the overall game experience, value and the "wow" factor. Okay, now that I got that out of the way, let's see what this title is all about. First thing I did was check out the manual and figure out how to play and what my objectives are and some of the tools needed to complete those objectives.
Now that I understand the theory of the title let's load up and start a game. Obviously we have to pick Stage 1 since we haven't unlocked any others. This will take us to Level 1 and the start of the game. During your first time playing you will be prompted, telling what your objectives are. Once the little white blob spawns you will be prompted for the next move. Okay great, we are being told how to play Blob Dash as we go.
Basically you are helping the little white blobs get a crossed obstacles and traps by re-routing their movements based on where you build bridges using boxes and other tools. Once they start spawning you re-direct them to safety until they get to the glowing crystal on the opposite of the map.
Now that we got our little blobs into the crystals we move on to the next map. Level 2 introduces trap doors that create a problem for the blobs. So protecting them from the trap is your objective. I placed a box in front of their path so they will not run into it. This changes there direction and guides them to the crystal, safely.
Once you complete this level you go on to level 3 and things will get a bit tougher to figure out, this is where strategy plays a part. Knowing where to move your tools to guide the white blobs to safety becomes a little harder with each level you complete. At this point in time the game is somewhat entertaining to me.
Once you play the game for a while, it is like a 3D puzzle and you do have to strategize to save the white blobs. Each level progressively gets harder and makes you think for a bit. The controls are a little hard to deal with at first, which makes the game just a tad frustrating. But after a couple hours playing the title, it becomes easier to deal with and does keep you intrigued.
Conclusion:
Q8IS Mobile's Blob Dash is a different kind of puzzle strategy game. The graphics and sounds are decent and provide a musical background track to keep you entertained. While at first, I felt this was an age specific game, I can see that a general audience may enjoy Blob Dash. The first 30 minutes I tried the game I was left with mixed feelings. But after playing it a few more times, it kind of grows on you.
The blob creatures are pretty static, they follow the arrows around the map and by placing tools around to change their direction the arrows re-draw according to how you place your tools. This is the strategy part. Keeping them all alive is your main goal and over all the title is okay in some areas and lacking in others. What it lacks is the "wow" factor I talked about in the beginning of the review.
Some will like the game, some will not. This goes with most anything, but if you are looking for smashing graphics, action packed gaming or movie themed entertainment, Blob Dash might not be for you. However, if you are into slow paced, casual gaming and like the 3D strategy concept, then I would put Blob Dash on your short list. Having been said, over all experience is neither outstanding nor depressing. It all boils down to opinion and what you're looking for in a game.
With a retail price of $2.99, the value is hit and missed with this title. Game play is slow and casual which isn't a bad thing. But in the end I think the target audience will be in limited to those who can appreciate a laid back no thrills strategy game.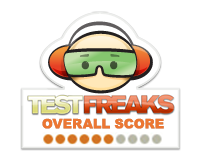 Pros:
Innovative concept
Decent graphics and sounds
Mildly entertaining
Cons:
Cost vs Value
| | |
| --- | --- |
| Grades: | |
| Overall | |
| Design | |
| Performance | |