Retro gaming on a next generation console is something a bit odd really, we played these games on our 8bit consoles years ago, but yet they're bringing them back for us to fall in love with all over again and to introduce an entire new generation to the fun of these basic games. It's odd in that it brings back a lot of memories and for that fact that they're 8bit games being played in HD, yet XboxLive is bringing use these games relatively cheaply for us to enjoy again. This isn't a bad thing, I'm sure most of us don't even have our NES anymore and wish we could still play the games of our childhood, so it's a good thing really.
Today for review I've got Bubble Bobble Neo, it's available from Taito via XboxLive and it truly brings back a lot of memories. This game was one of my favorites actually, I can remember playing for hours with friends and this version keeps to the original but adds a bit more to it. Updated graphics of course, along with 4 player co-op play and competitive play as well. So read one to learn more about an old favorite come back to life…

Bubble Bobble Neo is from Taito as we know, when we start we're greeted with the very familiar title screen:
From the main menu you've got several options including an in-depth help section that tells you pretty much everything there is to know about the game and to play it.
You've got Classic, Arcade and Vs Modes to play.
Depending which mode you select you can play with up to four players which can make for some good old fashioned 8bit fun.
Specifications:
The action game classic Bubble Bobble returns as an XBLA game! Encase your enemies in bubbles with the bubble-spitting dragon Bub! Enjoy a full-on recreation of the arcade version of the original game in Classic Mode (100 rounds), as well as various new features such as offline co-op play for up to 4 players in Arrange Mode (100 rounds) and competitive play in VS Mode. Learn the various techniques of the game and clear all the rounds!
-Players 1-4
-Co-op 1-4
-HDTV 720p

Once you're down selecting characters you again greeted with a familiar screen: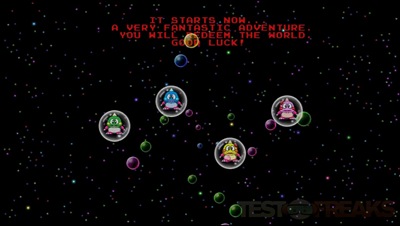 The music is similar to the original, just a bit updated, the graphics are as well of course for 720P play. There is no option to go an play the original version though. The play area of the screen doesn't fill the screen, you've got borders on each side.
You'll find game play is virtually identical to what you remember, you're a dragon that blows bubble to trap the enemies or you can use the to jump on as well. Along the way there are many things to collect as well.
When you lose all of your lives you're greeted with a ladder of sorts to let you know how far you've gotten to rescuing the damsel in distress:
Bubble Bobble Neo isn't a bad game overall, but I would have liked to see an option to play the original game, and it would have been nice had the main play area taken up more of the screen.
To finish this off I've got a game play video for you:
Conclusion:
Bubble Bobble Neo doesn't bring much new aside from being able to play with more people and the achievements as well. It's not a bad way to get your retro gaming on and bring back some of your fond 8bit childhood memories. If you've got kids they'll like it as well, and you can introduce them to the types of games you played as a child.
Pros:
+Good retro gaming fun
+It's Bubble Bobble!
Cons:
-Could be better in several ways
| | |
| --- | --- |
| Grades: | |
| Overall | |
| Design | |
| Performance | |