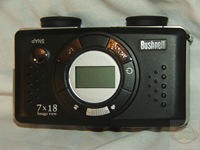 There are many products out there that have combined technology to create something much more interesting and usable. We find many things that we normally don't think of as gadgets are becoming them with the addition of electronic parts into them. Take a pair of binoculars for example, most wouldn't call them a gadget, but add a built in digital camera and it becomes one, for better or worse technology is invading mostly all aspects of our lives.
Geeks.com has sent me over an interesting gadget for review today, it combines binoculars with a digital camera so you can take pictures of the things that you're looking at through them. These can be great for sports fans, hunters, and even bird watchers, or just someone who likes to observe the thing around them. The product is called the Bushnell ImageView, and while it's a nice idea it does have a few flaws that I found in my time with them.
With a name like Geeks.com you'd think they would be carrying only computer parts, but they really carry all sorts of products including toys, gadgets and assorted consumer electronics. I've been shopping with them for many years now and I've come to find that they often carry things that you won't find other places, and usually have good deals all of the time on the things I need, so stop by if you get a chance and check them out.

As usual first up we've got the video unboxing for you, check it out then peruse the stills below:
Specifications:
Bushnell ImageView &  8MB Digital Camera
Take the Bushnell ImageView 11-0718C to the game or out on the trails!  The ImageView 11-0718C features a 7x magnification and an 18 mm objective lens, ideal for use at your favorite sporting events.  But that's not all, the ImageView 11-0718C also features a built in digital camera so you can zoom in on the action and capture it at 640x 480 resolution or capture a movie at 320 x 240.
Price:  $32.99
Features/Specifications:
General features:
* 7 x 18 mm magnification
* Center focus system
* Fully coated optics
* Porro prism system
* 365-feet field of view at 1000 yards
* 2.57 mm exit pupil
* 14.5 mm eye relief
* 10-foot minimum focus range
* Manual focus adjustment
* 0.3 megapixel sensor resolution (640 x 480)
* 8 MB memory
* USB interface
* 1/4" standard tripod mount
* 40 images maximum storage
* AVI movies at 320 x 240
* Runs on two (2) AAA batteries (not included)
Unit Dimensions:
* 1.5 x 4.75 x 2.75-inches (H x W x D)
Package Includes:
* Bushnell ImageView11-0718C 7x18mm Binoculars & Digital Camera
* Bag
* Lens cleaning cloth
* User Manual
* PhotoSuite Software
* USB cable
Additional Information:
* Requirements:
* Microsoft Windows 98/ME/2000/XP
* Intel Pentium 166 MMX processor or better
* 32 MB RAM or better
* 200 MB free hard disk space
* Optical drive
* Available USB port
* SVGA monitor and video card
* Two (2) AAA batteries
Notes:
* Model #: 11-0718C
* UPC: 0 29757 11072 5

Using the Bushnell ImageView Binoculars is easy to do, just look and click the button to take a picture, but I found that getting the pictures and videos off of the camera can be a chore and will not work at all with Windows Vista. And yes I did a bit of searching trying to get it to work for me, I did find one site in German that may have made it work with Vista, but it wouldn't download the drivers for me at all, the Capthca on the site kept saying it was wrong so the drivers would not download for me, and there was no guarantee they would work either. I did find another site with drivers that were supposed to work with Vista, but when I downloaded them they were exactly the same ones that were on the disc included with the ImageView so that didn't work either.
According to the instructions you have to install PhotoSuite to gets your pictures from the ImageView, but you don't you can just install the other application on the disc, it's a smaller lightweight app that's easy to use, it actually installs when you install the drivers, for some reason the manual forgets to mention this. There's a second app as well that installs, it allows you to live view through the camera, like a webcam.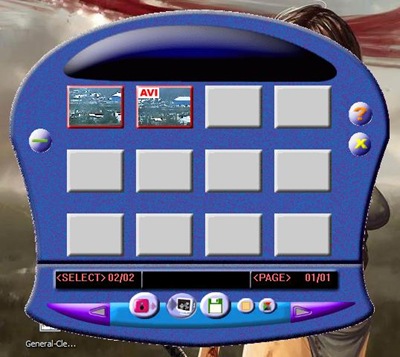 I mentioned you have to install PhotoSuite, or the other program, and you must install one of them to get your pictures from the camera, you cannot just access the camera via USB to retrieve your pictures, this is one thing I do not like about this product. I don't like a product that forces me to install software to use it, especially a camera, it should just be recognized as a mass storage device and you can just browse it like you would any other storage device.
The ImageView is battery operated, two 'AAA' batteries are all that's needed, and they seem to last a while in the product if you're careful. The ImageView does feature an auto power off feature after three minutes of inactivity, but it's very easy to turn the camera on even while in the case. The button is sensitive and the slightest pressure turns it on, if you've got this in a backpack or bag I can easily see it turning itself on all of the time and wasting batteries. You could solve this problem by removing the batteries while traveling though.
The next problem with this product is the instruction manual, it's wrong about a few things. It mentioned that you need to keep batteries in the camera or you'll lose your pictures, in other words the memory needs power to save the pictures at all times. This isn't true, I had another problem where I tried to delete the pictures and the it wouldn't work, so I figured just take the batteries out and the pictures would be gone, not true. The next problem was the deleting pictures problem, the manual is wrong again. According to the manual you cycle through the icons until you get to the wastebasket with the word 'all' next to it and hold the 'OK' button, I tried and tried and it didn't work, that's when I tried the battery thing and that didn't work. So since it wouldn't work the way the manual said I tried using the 'Snap' button, the one to take the pictures, and that worked.
Back to using the ImageView, it is easy to do and it takes fairly decent pictures honestly, even though they're small, only 640×480 at high resolution. I took the binoculars down to a trail near me and took a few pictures of the wintry scenery, I figured those would work for a demo for the whole outdoorsy theme with the binoculars…
You can take several pictures at high resolution, about 30, but with video you can only do about 16 seconds worth. The reason being is that there is only 8mb of memory in this product, and it's not expandable at all. It would be nice to be able to throw in a memory card to record more pictures and video, but as it stands if you intend to take lots of pictures and videos you'll need to bring a laptop with you.
The binoculars themselves are not bad really, they seem well made and they work as they should. They're adjustable to fit most any sized face or head, and they focus easily. The view through them isn't bad either once you focus them in a bit.
Here's the sample pics:
The ImageView Binoculars also do video, but no sound, and the video is very small at 320×240, and it's about the quality of most cellphone cameras, in other words not that good, very choppy and pixellated.
Here's the video demo:
Conclusion:
The Bushnell ImageView Binoculars are not a bad set of binoculars for the price, but the digital camera part is really lacking. Some of the bad points I can let slide, but the main problem is the very low memory and lack of expansion, this of course leads to you having to carry a laptop around with you, not much fun if you're planning on taking a hike in the woods.
The pictures the camera takes really aren't that bad, yes they're small, but the quality is decent for what it is
Pros:
Great for the outdoors type people
Good quality pictures
Decent pair of binoculars actually
Seems well made construction wise
Easy to use
Cons:
No Vista support
Small resolution
Memory not expandable
User manual is wrong about some things
Must install software to get pictures
Easy to turn on by accident
Small memory storage
| | |
| --- | --- |
| Grades: |   |
| Overall | |
| Design | |
| Performance | |