Our portable audio devices have become almost essential to out daily lives, we take them with us most places we go because we like to take our music with us. When I take my mp3 player with me, it's usually to help block out the sounds from outside, it kind of provides me with my own little personal space and I don't have to listen to or deal with what else is going on around me. I think we all do that really, on the commute to work, I know many people ride the bus and take their audio players with them to not only listen to music, but to not hear other people. There are times though that one might want to not use headphones with their audio players, I personally hook mine up in my car and use it that way while driving, my car has an audio jack built into it which is a very nice feature.  The majority of audio players out there do not come with built in speakers and to listen to them you've got to use headphones or buy some sort of dock or portable speakers to listen to them without the headphones.
Up on the review block today I've got an interesting little product called the iMainGo 2, and it's a portable speaker system for your iPod, iPhone, Zune or most any other portable audio player. The iMainGo 2 though is much more than just a set of speakers it's actually a case that will protect your MP3 player. I've been using the iMainGo 2 for over a week now and I really like it, the audio quality is excellent, and overall the product is well made, producing big sound from a little set of speakers.

The packaging for the iMainGo 2 is nicely done, it's colorful box with a window on the front and with specs/features listed as well.
Included with the iMainGo 2 is a user manual and carrying strap.
On one side of the iMainGo 2 are the speakers:
On the other side you'll find a clear window: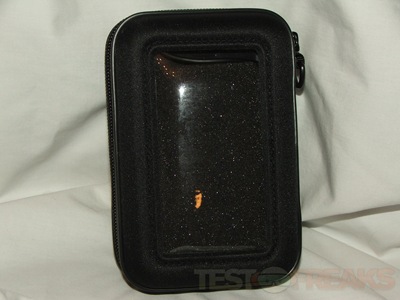 The case is made of cloth, nylon, and there's a zipper that goes all the way around it to open and close it.
Unzipping it we find a sheet of paper telling us how to install the batteries, a battery compartment and the power switch on one side.
The other side is where you'll put your audio player, there's a strap to secure it along with a plastic plate and a piece of foam padding, along with the headphone jack.
Specifications:
The ultraportable iMainGo 2 provides huge sound and easy-access protection for your iPod­, iPhone, Zune, and most other MP3 players.
Features/Benefits
– State-of-the-art electronics deliver bigger and better sound than systems many times the price and size
– Premium titanium high output stereo speakers
– Tuned porting for amazing bass reproduction
– Ultra-efficient digital music amplifier
– Can be used as a premium external stereo speaker system for most cell phones, laptops, portable gaming systems, electric guitars, etc.
– Custom fits and protects all iPods, iPhone, IPod touch, Zune (second generation), and most MP3 players
– Play, control, and view your MP3 player without opening your iMainGo 2
– Works on 4 AAA batteries (included)
– Battery life: up to 30 hours of playtime
– Built-in alarm feature (on alarm equipped iPods only)
– Removable carry strap included
– Measures: 5.7 x 3.8 x 2.4 in.; 145 x 96 x 61mm when zipped closed
– Weighs 11.3 oz. with 4 AAA batteries (320g)
Price: $39.95

Using the iMaingGo 2 is fairly easy really, depending on the size of your MP3 player, you can usually just put it in and go. I tried the iMainGo 2 with three players that I have, the Zune 120, iPod nano 4th and the Sansa Connect. It worked fine with the Zune and iPod but not with the Connect as the Connect is not a touch wheel, it physically moves so it didn't quite work well through the cover.
Installation for my Zune was easy:
You plug the headphone jack intot he Zune, set it inside of the iMainGo 2, put the cover on, secure it in place, turn it on and zip it up and you're ready to go. The on/off switch inside has a very bright green LED to let you know it's powered on.
Installation with the iPod nano 4th is a bit different, you've got to use the foam pad that's include to fill in the empty space and press the iPod against the clear cover so it works correctly. The only different step is using the foam, you plug the iPod in, set it in place, set the foam on top, then the cover and finish up.
Once you've got your mp3 player inside the iMainGo 2 you use it like you normally would. For the most part the touch pad works as it normally would, but I did notice, at least with the iPod that it wasn't quite as sensitive as without the plastic cover, it's still usable, but just not as sensitive. The Zune worked perfectly through the cover though.
The audio quality is excellent, I was truly surprised by the sound quality of the iMainGo 2, and it can get loud, very loud. There's actually quite a bit a bass as well that comes from the little speakers, and it does reproduce the high notes well too. Normally I listen to music as I sit at my computer while I'm working, but for a week I used only the iManGo 2 to test it out and I have to say I'm truly impressed overall by it. It's very easy to use, and offers good quality sound.
I do have a couple small complaints or personal  thought and observations about it…
The first thing is that there's no volume control on the product at all, you must use the audio player for that. It's not a bad thing really, it's more that fact that I'm accustomed to having one on every other device like this. So it just takes a bit to get accustomed to really not having the volume control right there.
The second observation is that the on/off switch is inside of the product, it works with inside placement, but many times I found I forgot to turn it off, and that can't be good for the batteries of course. It's kind of like the old adage:  'out of sight, out of mind'. The switch isn't there visible and it's easy to forget to turn it off.
One improvement I would make to this product is maybe an automatic sensing switch, turn the mp3 player on and the device goes on, turn the mp3 player off and the iMainGo 2 powers off. Or maybe just have an auto off function, I'm sure it would be relatively easy to sense when a signal is coming from the mp3 player of not, say after 2 minutes of no signal the iMainGo 2 powers off by itself.. Not sure exactly how it might work, but I'd like to see something other than the switch inside of the case to turn it off.
The iMainGo 2 is rated for 30 hours of play on the batteries, and I think I got that, even though I left it on a few times, so battery life is very good for it.
The iMainGo 2 is much more than just a set of speakers though, it also offers good protection for your mp3 player from scratches and falls.
Conclusion:
The iMaingGo 2 is pretty much the perfect portable speaker system for your audio player, the sound is excellent, it's well made and it protects as well.
I was truly surprised by the sound quality of this little speakers system, I like my audio to be good quality, and these offer decent quality sound reproduction.
The iMainGo 2 costs about $40, and I think it's well worth it for not only the sound quality but for the fact that it will protect your mp3 player as well. If you've looking for good portable speaker system, then look no further than the iMainGo 2, I can easily and honestly recommended it.
Pros:
+Easy to use
+Well made
+Acts as protection for your mp3 player
+Portable
+Inexpensive
+Compatible with most mp3 players
+Long battery life
+Excellent sound quality and loud
Cons:
-On/Off switch is inside
-No volume control on device itself
| | |
| --- | --- |
| Grades: |   |
| Overall | |
| Design | |
| Performance | |