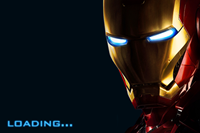 One of the biggest blockbusters of the 2008 movie season was Iron Man. In an attempt to capitalize on shell head's newly found popularity, Paramount Digital Entertainment has released Iron Man: Aerial Assault for the iPhone and iPod Touch. This game uses the device's built in accelerometer to steer Tony Stark's alter ego through aerial battles. Unfortunately unlike the movie, Iron Man: Aerial Assault will not be a blockbuster hit like its movie namesake.
Repetition is the theme of this title. There are twelve levels, but they are all pretty similar. You will have plenty of enemies to fight, but instead of being classic Iron Man enemies such as the Mandarin or Crimson Dynamo, you will face a nearly endless battery of missiles, airplanes, drones and helicarrier style battleships.
Game play involves titling the iPod Touch/iPhone to aim Iron Man's cross hairs. Iron Man can fire missiles, repulsor rays or lasers. The missiles are auto launched when your cursor passes over an enemy. Repulsor rays are fired by touching virtual on screen button when the cross hair is over an enemy. In addition, Iron Man can evade enemies by hitting another virtual button. As you progress through the game, you acquire more powerful defenses and weapon upgrades. The Unibeam fires from the center of Iron Man's chest and annihilates all enemy targets on the screen. Points are gained for everything destroyed with awards handed out at the end of each level based on Iron Man's performance.
Overall most game play on the iPhone/iPod Touch seems to be a one trick pony, where the accelerometer is the unique way to control game play. This is definitely a different way of playing a video game, but it does get jaded quickly. The control scheme using an accelerometer needs a fair amount of calibration to provide accurate movements.
Using the touch screen for interaction usually assigned to a physical control pad can cause frustration during game play. In Iron Man: Aerial Assault, dodging and firing repulsor rays require tapping virtual buttons on the side of the screen. Missiles fire automatically once the reticle passes over a target, but to fire more powerful weapons, you will need to use these virtual buttons. Let's just say that poor Tony Stark had taken more missile heads than necessary if these buttons were more accurate and responsive.
Specifications:
Iron Man: Aerial Assault is an action packed airborne shooter where the player uses the high powered weaponary of Tony Stark's armored suit to battle IRON MAN's most dangerous enemies.
GAME FEATURES:
The latest technology: Iron Man: Aerial Assault pushes the iPhone and iPod Touch's accelerometer and touch functions to new levels of game play.
High Altitude Battles: Engage a variety of menacing enemies in mid flight through a series of melee combat quick time events. Battle through 12 levels as you gain precision flying and shooting skills.
Explosive State of the Art Weapons: Including repulsor blasts, lasers, missiles and IRON MAN's distinctive Unibeam. Arsenal buttons fire weapons with the touch of a thumb.
Download Iron Man: Aerial Assault now and experience the most action packed game on the iPhone.
Requirements: iPhone 2.2 Software Update
The visuals are very good on par with PSP or Nintendo DS graphics. Unfortunately, the scenery is pretty static and most of the game play is in a third person view with the player seeing the back of a flying Iron Man. The player controls the aiming reticle that Iron Man uses to target his enemies and not Iron Man himself.
It is also important to note that Iron Man: Aerial Assault does drain the battery much quicker than most apps. This is most likely due to the graphic complexity of the game.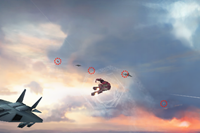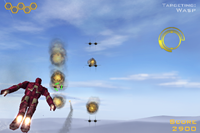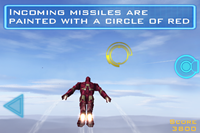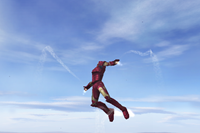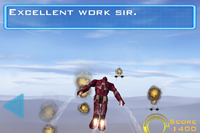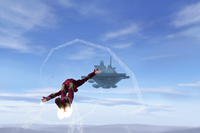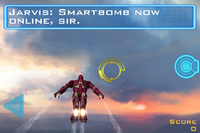 Conclusion:
Iron Man: Aerial Assault is another in a long line of movie based games that fails to live up to expectations in the video game format. Initially Iron Man: Aerial Assault was priced at $7.99, but as of the writing of this review the price is now $0.99. That does affect my overall rating of the game since for $7.99 I would not recommend this game, but for $0.99 it is worth a try for a minimal investment. Looking at the reviews on the iTunes store, I would say 60% of the users gave it a positive review, so maybe this iTunes app is one for you. Hey, it's only a buck
Pros:
Low price
Cons:
Repetitive game play
Frustrating control scheme
Battery Drain
| | |
| --- | --- |
| Grades: | |
| Overall | |
| Design | |
| Performance | |