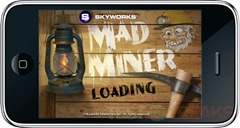 One of the latest entries from the Skyworks camp is Mad Miner for iPhone. With this platform game, you take your miner through 10 levels of cavernous mines, prospecting for gold nuggets, and diamonds. Along your way, you will run into bats, snakes and run away mine carts in a labyrinth of tunnels and obstacles. Using your trusty pickaxe, you can dig your way to different levels of each map gaining access to other parts of the mine to complete your prospecting adventure.
In this classic platformer game, help the Mad Miner dig through 10 levels, collecting gold nuggets and precious diamonds, while dodging slithering snakes, flying bats, falling stalactites, and out-of-control mine cars.
At first glance, Mad Miner boasts awesome graphics and game play one would expect from Skyworks. Considered a platform 2D game title, Mad Miner turns your iPhone into an adventure game with supporting soundtracks with a honky-tonk groove. Maneuver through mine shafts collecting gold for extra points and diamonds to complete a level.
You will race against a clock, while collecting the most points possible on each level. During your prospecting, you will have to watch out of bats, snakes and stalactites all of which damage your miner like hit points. Special pick-ups along the way will give you extra health, bonus time and lives to aid in your completion of a level.
Specifications:
If you think you're ready to do some prospecting, then grab your pickaxe and get diggin' with MAD MINER from SKYWORKS, creators of the best quality and most fun games for iPhone.iPod Touch. So what are you wait'n fer? There is gold to find in them there hills!
In MAD MINER, dig you way through 10 levels of the most outrageous mines ever. In this classic "platformer", help the Mad Miner collect gold nuggets and precious diamonds throughout caverns filled with slithering snakes, flying bats, and out-of-control mine cars. Use your pickaxe to dig your way further underground or use the handy mining lifts, but always be on the lookout for falling statactites and other creepy creatures.
MAD MINER features two soundtracks and local and global high score boards, and many other activities, including:
CLASSIC ARCADE MODE: dig through 10 outrageously unique and fun filled levels in the classic style of "MARIO" platform-style puzzle action.
Obstacles: Dodge flying bats, sneaky snakes, falling stalactites and runaway mine cars.
Collect diamonds to complete a level, and earn gems for completing levels.
Collect gold nuggets to receive bonus points
SPECIAL PICKUPS: earn extra lives (Miner's Head), good health (Heart) and time bonuses (Hour glass)
Choice of two background music tracks
Sound and Music volume controls
LOCAL HIGH SCORE BOARD
GLOBAL HIGH SCORE BOARD: Compete against "miners" from hills all around the world.
LANGUAGES:
English
REQUIREMENTS:
Compatible with Iphone and iPod Touch
Requires iPhone OS 2.2 or later
Installation size is a mere 8.1MB from iTunes, installing this game title with a 3G connection is a snap and even faster with WiFi. The size is relatively small for the awesome graphics and soundtrack included with the game. Now let's get up close and personal with Mad Miner and see what this title has to offer. First thing we will do is create a player name and start up screen name, then start the adventure.
Starting out with three minutes, you will take the miner on a quest to dig for gold and diamonds. Using the radar on the left side of the screen helps you reach your objectives by giving you a heads up on where the diamonds are located on each level. On-screen arrows under the radar screen are the controls to navigate your miner through the mines. Pressing the left and right arrows will move the miner left and right. Using the up and down arrows will move the miner up and down. These are located on the left side of the screen.
A second set of up and down arrows are located on the right hand side of the screen and these controls will help you jump and squat as needed to complete a level. In order to dig your way to the levels below, find the blocks located on the ground that allow you to pick your way through the tunnel and access lower tunnels. Use the left control pad and press down to begin picking through to the next level below.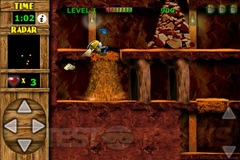 With only seconds left, I made a mad dash to complete the level. Using the radar screen helps with finding the right tunnels needed to find the diamonds in order to complete the level. One peculiar thing I noticed is the diamonds are red – aren't ruby's red? Anyway, not that it matters, but the diamonds are red in color, once you find them all you will complete the level. By the time I got to the bottom of the mine shaft I had 53 seconds left with three diamonds to go. Almost there, with 42 seconds left I have only two diamonds left to prospect.
On my first try, overall I scored 5084. That's 234 time bonus, 3250 gold bonus and 1600 health bonus. I earned a red gem stone for completion of level one. Not satisfied with my level one score, I reset the game and tried again. This time I managed to up the ante and made a killing with the time bonus. This time I managed to grab a 2332 time bonus, 4250 gold bonus and 1800 health bonus for a total bonus of 8382! Not bad – but then again, knowing the tunnels helps with that time bonus.
At this point the game is very engaging and fun to play. In a way this is a puzzle strategy in that you have to beat the clock before time runs out. Moving right along to level two, things start getting interesting. I start picking away at the floors to break through to lower tiers. Again, using the radar I start exploring ways to find the diamonds and gold nuggets.
Using the mining elevators speeds things up a bit and will assist in getting the level complete a little quicker. In level two, I ran into those sneaky snakes and managed to have one guarding the last diamond. You will need to try and avoid being bitten by the snake if your health is suffering. However time is of the essence and I had to make a mad dash past the snake to get the last diamond. Jumping over him I managed to get the last one to complete the level with about a minute to spare.
Like level one, I decided to take a break and start the game over from scratch and see if I could do better with level two. On the second try my overall score was significantly less, but I did do a little better. First time around I scored a time bonus of 1423, gold bonus of 1250, health bonus of 800 for a total bonus of 3473 with a local score of 20154. While on the second try I scored a total bonus of 3785, my local score was lower at 17517 – Didn't do as well on the first and second level on my second try, but I did better on that particular level.
Level three is much more challenging with blocked corridors, more bats and snakes. Now the game has me sucked in, wanting to see what else is in store for me. Running around dodging creatures and figuring out the tunnels to get me to my next diamond was exciting and fun. Using the mining cars can lower you several levels, but then you must go back to an upper level in order to get to other parts of the mine. So I cleared level three…
Man was that fun! Level four is another story, with a tougher level and introduction of having to jump clear a cross a whole butt load of holes in the tunnels, I fell off so many times, that I ran the clock out and missed my chances to see level five! I ended up with a local score of 25447 and the game was over. With that in mind I have played Mad Miner enough to really get a kick out of it. What a great game!
Conclusion:
Skyworks is definitely a force to reckon with. With many game titles to hit the top ten, Mad Miner comes in at the top of my list. Game play is fantastic, graphics are superb and the overall experience is awesome. The control's are easy to use, but does take a few times to get accustomed to, they work well but I had a tendency to finger fumble the controls at first. Having been said, this title is very easy to play and keeps you entertained throughout the experience.
The soundtrack music is great through a good set of earphones and the ability to turn them off is a plus. While I was sitting with my wife watching TV she asked me to put on my earphones or lower the volume so she could watch her "America's Got Talent", so I lowered the music and was able to continue playing while I enjoyed Mad Miner and she got to watch her show without incident.
My overall impression is "Skyworks Got Talent" and this mobile game holds true to that testament. This title also comes with a super great value to it, costing the downloader an easy $1.99, making Mad Miner a really good deal. I recommend this download to anyone who can appreciate Skyworks commitment to creating excellent mobile games and value to the end user. Mad Miner is a technogog highly recommended mobile gaming experience!
Pros:
+Exceptional graphics
+Sound reproduction is first class
+Gaming function and theory is awesome
+Controls are easy to use with practice
Cons:
None
| | |
| --- | --- |
| Grades: | |
| Overall | |
| Design | |
| Performance | |