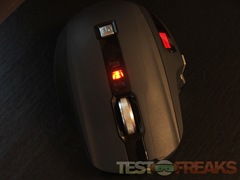 Look around and you'll find many companies out there producing mice, it seems that a lot of them are trying to get in on the gaming industry, but not all are created equal, or that good for much of anything. When it comes to gaming though most people much rather prefer a wired mouse as there is no lag, many companies have tried to come up with wireless gaming mice, but the results just really weren't good enough for most gamers. It's been a long time since I've owned or used a wireless mouse, even though I'm not professional gamer, I do like the features that come with gaming style mice and use them often, and even I don't like wireless mice for gaming.
Microsoft has recently released a new product, it's a wireless gaming mouse called the SideWinder X8 and it aims to actually be a usable wireless mouse for gaming. It's got the standard features of gaming mice, adjustable DPI settings, macros management and programmable buttons. It also features an extra button which acts as a quick launch button to the games folder in Vista, it also features replaceable feet as well, and includes two extra sets of them. One of the other features I found unique is the ability to charge while playing, the charging cable clips to the base via a magnetic connection and allows you to continue playing while the mouse is charging. Overall it's a great mouse and in my time with it I've come to like it very much, so read on to learn more about a very adept and adequate wireless gaming mouse.

First up here I've got the unboxing video for you, and then a bunch of pictures.
In the video we pretty much saw everything, but let's take a look again.
The for the SideWinder X8 is a nice presentation style design, it's red glossy and just has a gamer look and feel to it.
Inside we find the mouse itself, charging base, user manual and software disc.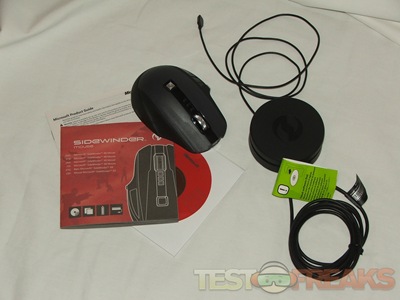 The charging base is the wireless receiver as well, it reminds me of a hockey puck actually, and it's rather heavy with a rubberized base to make sure it stays where you put it. The charging cord is nice and long, on the very end is where you find the charging contacts, the plug just clips to the bottom of the X8 with a magnet and stays in place nicely. The cord wraps around the base, there's an indentation in the middle section of the base where the cord fits into.
… but the charging base is a bit more than that, the top comes off to reveal two more sets of the feet for the X8, the feet just clip to the X8, and interesting system actually.
The SideWinder X8 is a rather large mouse, and it's really only for right handers, for the last few months I've been using the small NZXT Avatar so it took a bit of time for me to get accustomed to the size of the X8.
The SideWinder X8 features three buttons on the left side, two of which can be your standard back and forth browser buttons, the other, towards the front is for creating macros for gaming. The stacked buttons on the side are a bit odd as most mice have them side by side or even on either side of the mouse, I'm still not quite accustomed to them yet.
On the top of the X8 you'll find the regular right and left buttons along with four more, three small black buttons are for changing DPI settings, and the square silver one is a quick launch button, in Vista it opens the gaming folder. The scroll where is a buttons as well, and it can tilt from sided to side for side scrolling, it's a clicky style so it's audible when you scroll with it.
The bottom of the X8 is where you'll find the charging port on the front, the removable feet, sensor and battery compartment along with the power switch.
Specifications:
Microsoft SideWinder X8 Wireless Gaming Mouse
The Ultimate Gaming Mouse System
Grab hold of the Microsoft® SideWinder™ X8 mouse and experience gaming thrills and performance that will blow you—and your opponents—away! This addition to Microsoft's award-winning line of SideWinder gaming products is a complete desktop gaming system that features breakthrough Microsoft BlueTrack™ Technology, 2.4 GHz wireless, USB charging while you play, an advanced design for precise handling and fast action, adjustable feet, custom tuning—and much more.
-2.4 GHz Wireless connection Reliable wireless connection built for lag-free play.
-BlueTrack Technology World's most advanced tracking technology for gaming with image processing of 13,000 frames per second.
-Play and Charge Up to 30 hours of active gaming on a single charge, or use the play-and-charge cable for non-stop action.
-Twelve Buttons – Seven are programmable Customize the five programmable main buttons, plus left/right tilt wheel—seven programmable buttons— to customize your gaming experience.
-Scroll Wheel with Tilt Better feel and response with detents for precise control.
-Full-Speed USB Reporting Full-speed, 500 Hz USB reporting is built for lag-free play.
-Engineered for Speed Shape designed for quick, balanced, precision gaming action.
-Vertical side buttons Don't make mistakes. The top/bottom design makes locating the side buttons easier and reduces the inadvertent actuation risk.
-LCD Display Quickly view DPI settings and macro-recording.
-Quick Launch Button One-touch access to Microsoft PC Gaming features.
-DPI Switching Instantly switch sensitivity between high, medium, and low with one click.
-Replaceable Mouse Feet Choice of three different materials for glide preference.
-Macro Record Easily record macros while in game with the dedicated button.
-3-Year Limited Warranty
Additional Features:
-2.4 GHz Wireless – Built for lag-free play.
-LCD Display – Quickly view DPI settings and macro-recording icons on the mouse.
-DPI Switching – Instantly switch sensitivity between high, medium, and low with one click.
-Replaceable Mouse Feet – Choice of 3 different materials for glide preference.
-7 Programmable Buttons – Customize 5 programmable main buttons, plus left/right tilt, to your preference.
-Macro Record – Easily record macros while in game with the dedicated button.
Specs:
-Resolution: 250–4000 dpi (BlueTrack™ Technology)
-Image Processing: 13000 frames per second
-Max Acceleration: 75 G
-Max Speed: 120 inches per second
-USB Reporting: Full-speed, 500 Hz
-Feet: 3 sets of different mouse feet (for glide preference)
-Wireless Play: Up to 30 hours
System Requirements:
-Windows Vista®/Windows XP
-100 MB
-USB Port
-CD drive

The user interface, Intellipoint, is pretty basic, only three of the seven tabs really pertain to the SideWinder X8. You can change the button functions, assign DPI to the buttons and change the scrolling, the others are basic stuff for all mice.
Here's a few shots of the X8 compared to the Avatar that I've been using:
The X8 does have red LEDs in it for highlights, but they don't stay on all of the time, personally I would have liked if they did, but oh well, they only come on when you change the DPI. There's a small screen on the left side above the buttons that tells you what DPI you are using and the buttons you pressed also lights up.
Using the X8 is nice in fact, very nice, as I mentioned though since it's so large it took me a while to get accustomed to it, but that's only me as the mouse I was using is rather small in size. I'd forgotten what it's like really to use a wireless mouse, I very much enjoy the freedom of it.
I used the X8 on cloth and plastic mousepads and even just my desk surface, I had no problems with tracking on any surface at all. Having three monitors it's nice to be able to run a higher resolution to be able to easily zip across all three, for me I have the DPI buttons set at 4000, 1500 and 750, 1500 being the normal setting for everyday usage. The only complaint I could have is that the DPI settings aren't as adjustable as I'd like them to be, what I mean is that they go from 500 to 750 then to 1000 etc, I'd like them to be much more adjustable, on other mice 800DPI is usually my lower setting, but with the X8 there's no option for that. For me though it's not that big of a deal, but I could see where a professional gamer or even someone who games more than me would like to have better adjustability with the DPI settings.
Some mice out there have adjustable weights as well, the X8 does not, again here, some people like to change the weight of their mice, personally I like a heavier mouse, and the weight of the X8 is fine for me really.
I played several games with the X8, Price of Persia, F.E.A.R. 2 and many others, all of them worked great with the X8, no problems to report in that area.
Battery life seems fine with the X8, not that it matters much really as you can play while you're charging. At first I was a bit leery of the charging system and how it connected, it connects with a magnet so I wasn't sure if it was going to stay in place, but after using it that way I found it works perfectly fine. The charging cord is very thin, which is good and bad really, being thin it's lightweight, but it can possibly get damaged easier as well.
Conclusion:
The Microsoft SideWinder X8 wireless gaming mouse is an excellent all around mouse, and of course it's very good for gaming as well. It's probably the first wireless mouse that I'm happy with for gaming, there seems to be no lag at all. The configurable buttons and interchangeable feet are a nice touch, and the adjustable DPI settings are something that even the most casual gamer can appreciate.
Of course though I'm not a professional gamer, but for me it works very well for all of the games I played, it tracks on every surface style, and it works great for everyday uses.
Being wireless it frees you from cords, it's quite possibly the best wireless mouse on the market today.
As much as I like my NZXT Avatar, I won't be going back to it, in my time with the X8 I've grown to like it very much, I can easily recommend the SideWinder X8 to anyone looking for a high quality wireless gaming mouse.
Pros:
Works well on all surfaces
Easy to use
Nice long charging cord
Play while charging
Wireless that works well for gaming
Adjustable DPI
Interchangeable feet
Nicely made
Cons:
Large mouse
Only right handed
DPI settings are not fully adjustable in smaller increments
No adjustable weights
| | |
| --- | --- |
| Grades: |   |
| Overall | |
| Design | |
| Performance | |