Up for review today I have another case from MSI, this time it's the Stealth ATX Mid Tower chassis that features tool-less installation, a VGA stabilization system and a nice stealthy and stylish black look. The Stealth case also features advanced thermal airflow for excellent cooling with two pre-installed fans and space for five more additional fans for even more cooling ability if need be. So let's just get right to it…

As usual we start with the box and packaging. The box is stylish and looks nice with the same picture on the front and back. The case is packaged well with styrofoam and a plastic bag over it.
Included with the case is a small black folder with the accessories, screws, zip ties, user manual and an MSI dog tag.
The case is called the Stealth and I don't know about you but the color black comes to mind then I think of stealth. MSI must think the same as they made the case all black on the outside.
On the top of the case you'll see something unique besides the standard USB2.0 and USB 3.0 ports, there's a USB port that is orange in color. This particular USB is basically only for power, it connects inside of the case via a regular molex and provides just power for your devices like phones for instance. There's also audio ports, a power button, reset button and LED indicators for power and hard drive activity. Right below the ports you'll find four 5.25" bays for optical drives, behind the bottom one is a 5.15" bay which can also be used as a 3.5" bay.
Below the bays you'll find a square section of ventilation behind which is a cooling fan and the MSI logo is of the bottom.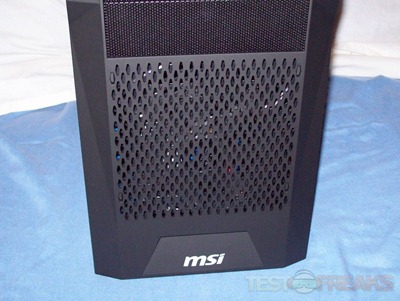 On the top of the case you'll find ventilation slits, the whole top pops off and you can install two more 120mm fans if you'd like extra cooling. I should mention that the front and top of the case is made of a rubberized material.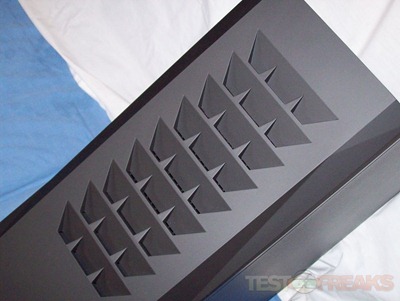 On the left side of the case is space for two more 120mm cooling fans.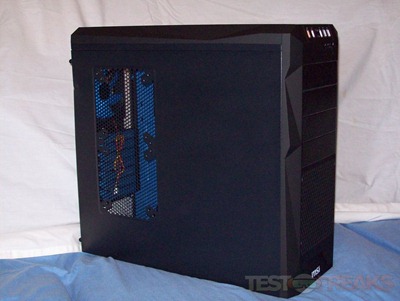 The right side of the case is just plain black.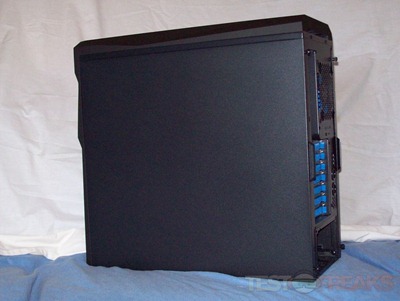 Moving to the bottom of the case you'll find space for an optional 120mm fan and ventilation for the power supply. If you look at the bottom of the front bezel you'll find a small handle so you can easily pull the entire front off to access the bays.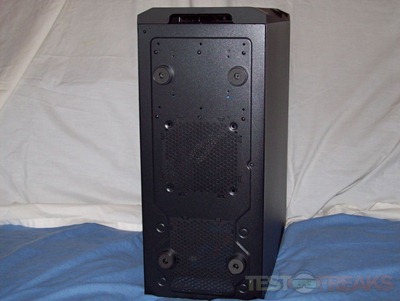 Moving around the back of the Stealth case you'll find the familiar blue coloring like we saw on the Ravager case. Off to the right side of the case you'll find two holes for water cooling tubing and you'll notice the side panels are held on with thumbscrews.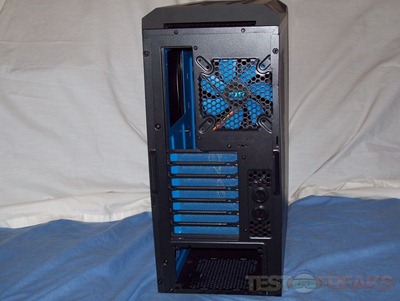 As I mentioned the front panel just pops off easily and behind it you'll find one open bay and two that can be removed if need be. On the bottom is a bay that can be used as a 5.25" or 3.5" bay. On the bottom is the front cooling fan, it's a 120mm fan right now but there is space for a larger one if need be.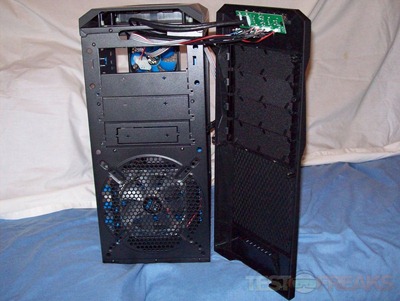 Removing the right side of the case you'll find a bright blue motherboard tray and blue hard drive trays to match. The motherboard tray has nice large hole in it where the CPU socket would be located, this makes life a lot easier when it comes to installing or swapping CPU Cooler s as you most likely won't have to remove the motherboard from your case. There are also three other long shaped holes for wire management and plenty of spaces for securing wires to the board.
Removed the left panel you'll find a better view of the motherboard tray, blue again on this side.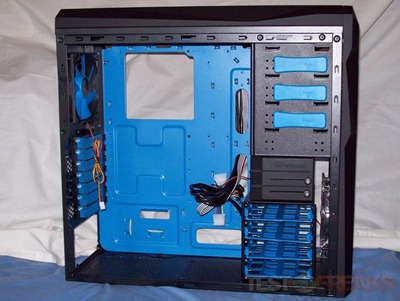 The hard drive rack can hold four drives and the trays are the same as that of the Ravager, they are expandable to make installation easy and tool-less.
One of the features of the Stealth case is VGA Stabilizers for large video cards, they are bars that slide out to help keep your video card stable at all times. They do have rubber bases on them to help protect and hold the card. The slides are held in place by thumbscrews, you loosen them to slide the bar into place and then tighten it to hold it where you want it.
The 5.25" bays are tool-less as well. The drives are secured by plastic brackets that are blue as well.
Here's the view of the bottom of the case where you can see optional fan spot and the PSU vents along with rubber feet for the power supply.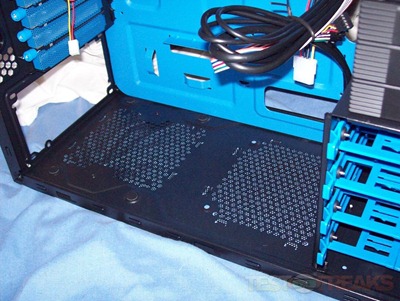 The cables hanging around are motherboard header connections USB 3.0 and USB 2.0 along with the audio connector.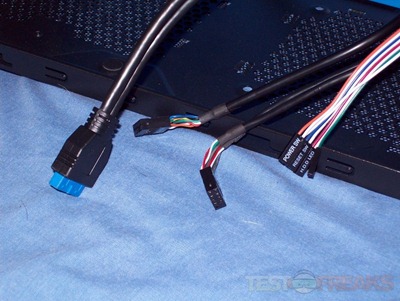 The PCI slots are blue and vented and held on with thumbscrew making installation of your cards easy.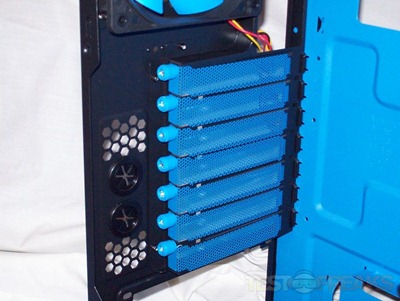 Here's the view of the fan from the inside, it's a 120mm and it's blue to match the rest.
Here you can see the top of the case with the spaces for the optional fans.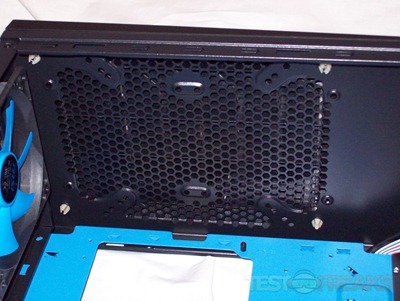 Specifications:

MSI Stealth ATX Mid Tower Chassis
Stealth is designed for top-quality cooling, which is achieved through a pre-installed high-quality front 120mmm LED front fan,a rear 120mm fan, and a Cable Camouflage system for improved airflow and wire management for a cleaner system build.
Features:
-Advanced Thermal Air Flow for superior cooling and maximized ventilation with ball-bearing and LED fans; supports additional options for safe, reliable operation of high performance components.
-Tool-less drive bay and expansion setup allows users to quickly and easily upgrade their PC
-3-Year Warranty for longevity akin to existing MSI Military Class series of products
Shock resistant finish: The unique rubberized front bezel provides a sleek, yet subtle feel and a one-of-a-kind design in the market.
Top panel with Super Charger and USB3.0 Support
Easy to access top panel I/O ports include:
-Headphone
-Mic
-USB 2.0 (x2)
-USB 3.0 (x2)
SuperSpeed USB3.0's 5 GB/s offers 10 times the bandwidth compared to traditional UBS 2.0 ports.
-Super Charger USB 2.0 (x1)
Super Charger designated port is used to power mobile devices faster. Requires Molex power connector.
VGA Card Stabilizer:  The VGA Card Stabilizer supports increased weight of high-end graphics cards; helps power connector.
Full Size VGA Card Support:  Gamers can be assured their high-end graphics card will fit with support for cards up to 310mm.
Tool-less Drive Bay Design:
Installing a hard drive has never been this easy!
Simply snap in your 3.5″ HDD drives/peripherals; secures SSDs and non-standard drives and screws.
Water Cooling Ready: Includes pre-cut rubber holes for advanced hydration systems.
Specs:
Interceptor: Stealth
Model: IN-602
Form Factor: ATX Mid Tower
Color / Type: Black (Steel)
Front Bezel Material: Shock Resistant Finish (Rubberized)
Motherboard Support: ATX / MicroATX
5.25″ Drive: 3
3.5″ Internal: 4
Expansion Slots: 7
USB 2.0 / 3.0: 2 / 2 (Front Panel) / 1 Powered USB 2.0
HD/97 Audio: Yes (Front Panel)
Card Reader: Yes
Included Fans: 2 (120mm Rear; Front LED)
Optional Fans: Up to FOUR (5) 120mm additional fans
Dimensions (Chassis): 205(W) x 460(L) x 430(H) MM
Weight: 11.2 lbs / 5.1kg
Warranty: 3 Years
Price: $99.99 (from Amazon at time of review)
The system I'm installing is my kids main system which consists of:
DFI Lanparty Motherboard
Intel Q9650 CPU
8 gigs of ram
ATI AMD 4890
Seagate 500gb SATA HDD
DVD/RW Drive
So here's my system installed in a few pics: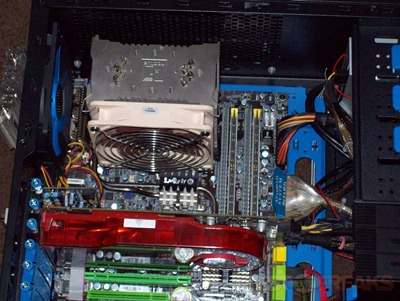 At the top of the case there's plenty or room to work, but once you install fans, if you do, it will get tight up there. The secondary power connector is located up the top left corner of my motherboard and I got it in with a bit of work, but that's mainly because of the larger style Noctua cooler I have in the case.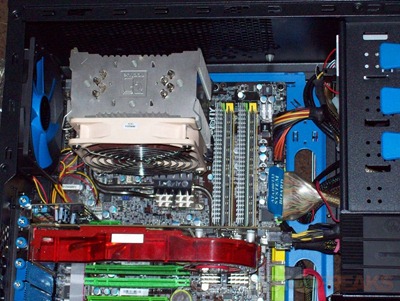 Here's a few other views for you of the various parts installed. The 4890 is large card but not the biggest, but it fits fine in the Stealth case with extra room.
The biggest card I have is the Nvida 465gtx but even that wouldn't reach the VGA Stabilizers. The stabilizers are a great idea, but I just wish they were a big longer, just an inch or so would be perfect.
Here's the back of the motherboard, there are many places to secure wires to using the included zip ties. There's 3/4 of an inch width between the motherboard and the case side panel which should be more than enough for wire management.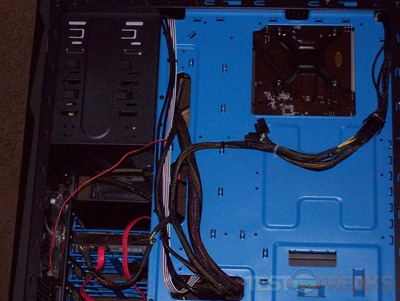 When powered on there is a single small blue triangular shaped LED to indicate power and one to the left of it which blinks red to indicate hard drive activity.
When I turned the system on I was struck by just how bright the LEDs are in the front fan. The fans are quiet and they seem to keep the system cool.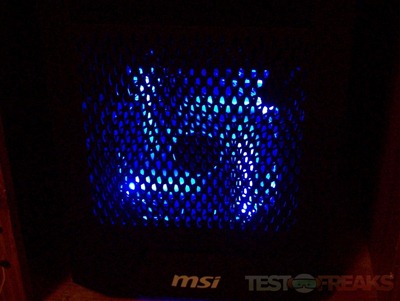 Overall I found the case to be well made but kind of plain honestly. The case costs $100, and for that price I think there needs to be more to it really. It's not a bad case, don't get me wrong, it seems to need more. Plain can be nice though as it is called the Stealth and that could mean non-descript or plain, so it works I guess.
Conclusion:
The MSI Stealth case is a decent case overall and for the price it's not bad I think. The case is virtually all tool-less except for the motherboard screws, other than that you don't need any tools to get your system installed.
Airflow with two fans is adequate for a non-overclocked system, and there's plenty of room for additional fans if need be. The pre-installed fans are quiet and they do work well, at least for my needs.
The Super Charger USB port is handy for charging your portable devices without tying up an actual USB port.
The VGA Stabilizer system is unique and it does provide a needed accessory in any computer system. it just would be nice if the stabilizer bards were a bit longer.
Pros:
+Quiet and cool
+Plenty of room for larger video cards
+VGA stabilizers for large video cards
+Mostly tool-less installation
+Room for cables on back of board
+Dedicated powered USB port
Cons:
-VGA Stabilizer could be longer
-A bit expensive for a fairly basic case
-No front fan filter
| | |
| --- | --- |
| Grades: | |
| Overall | |
| Design | |
| Performance | |
To learn more about our review policy please visit this page HERE.