Before we had digital cameras everything was done with film, which means most of us have all kinds of photographs floating around. They're nice but the problem is that with time they will fade and of course they're fairly fragile as well, susceptible to fire, water, humidity etc, and it would be a shame to lose our memories. You could loose your photos or have them damaged and have to send photos for professional photo restoration service. The one thing we can do is transfer them over to our computers so we have them copied digitally and for the most part they're better protected than the originals, and if something would happen to them then there would be a digital backup. If you've ever tried scanning pictures with a regular sized flatbed scanner then you know it can be a real pain to do, it just never seems to work out right, to do it correctly you need a dedicated picture scanner.
The product I have for review today is the Photolink One-Touch Scanner from a company called Pandigital. Pandigital mostly makes digital picture frames, but they recently released this product as sort of an accompaniment to their digital photo frame lineup, but it can be used alone as an excellent photo scanner. The Photolink can scan up to a 4×6 photograph, and it does it amazingly fast and with excellent results, it also essentially upscales the photo as well so you end up with a hi-res picture that you can blow up without much quality loss.
I have to say I love this product, for me it's exactly what I need to transfer my photos to my computer, it's well made, it's very fast and it does a great job..
Specifications:
Pandigital Photolink One-Touch Scanner
Model: PANSCN01
Price: $99.99 
* Scans up to 4×6 traditional print photos to be viewed on your digital photo frame.
* Creates a stunning digital replica of the original print photo.
* Transfer the new digital photos from the Photolink Scanner directly onto a memory card using the built-in 5-in-1 card reader
Specs:
Supported Media: CF, SD, MS, MMC, XD
Memory Card Reader: Built-in 5-in-1
Connectivity: Mini USB 2.0
Scanning
Document Size: Up to 4×6 inch images
Photo Feeding: Sheet Feed Type
Output Image Format: JPEG
Resolution: 1800 x 1200 @ 4×6 photo scan (image); 300 x300 dpi (optical)
Dimensions: 6.15″"W x 1.8″"H x 1.5″"D / .5 lbs 
Package Contents:
* Handheld Scanner
* Calibration Card
* Roller Cleaning Sheet
* Sensor Cleaning Swab
* Power Adapter
* USB Cable
* User Manual

The Pandigital Photolink One-Touch scanner is very simple to use, just put the memory card in, turn it on and insert a picture, the scanner senses the picture and pulls it through for the scan. It's very fast as well, just a couple seconds and the picture is done. Of course if you've got a different sized picture there is a slider on the right side that moves so you can even scan wallet sized photos and business cards if you wish.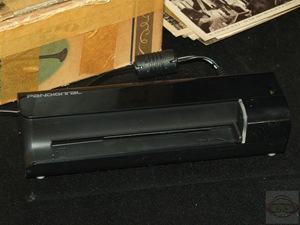 I've reviewed a lot of products in my time and this has to be one of the coolest and most useful ones of all, at least it ranks up there very high on a short list of products that I feel are exceptional.
One complaint I could have about this scanner is that you can't scan directly to your computer with it, you can hook it to your computer via USB and immediately pull the pictures from the memory card. You can just leave the window open and as you scan the pictures will appear, but you can't use it as you would any other scanner hooked to your computer. It's not that big of a deal though really, my Epson WorkForce 600 has the same ability, I can stick a USB stick or memory card in it and scan directly to it, so it's sort of the same in that respect.
Over on my blog I started a series of scans of postcards, my Grandfather was in World War II and traveled all over the world and he collected postcards while he was there. I started the series but kind of got away from it because it was just a pain to do with a flat bed scanner, it never seemed to work right if I scanned one, and if I scanned a lot of them I would have to go in and crop the individual pictures out and save them. It was just a very time consuming process that I just figured I would get back to eventually, and well eventually never came so it's been a while since I updated that section. Now though I can scan them in very quickly and they look excellent, it took less than two minutes to scan 21 of them, maybe a minute and a half, and it was just very easy to do.
and here they are, check them out, they're old so they do show signs of age, but I think they're a rather unique piece of history.
Some of the scans do have lines going through them, that's only because the scanner needed calibrated. Pandigital included a special calibration card, and even a little cleaning kit as well to make sure the scanner gives you good quality scans. I left them in just for example sake, once the scanner is calibrated the pictures don't have the lines of course and they look very good.
Conclusion:
The Pandigital Photolink One-Touch Scanner is an excellent choice if you're looking for a quick and easy way to scan your photos into your computer to save, send or display them. It works very well, and since you can scan various sizes you'll be able to save quite a few pictures from anything possibly happening to them.
The Photolink Scanner also gets points for being able to read many different types and cards, and of course for the fact that it can double as a card reader for your PC.
Pros:
Very fast scanning
Excellent quality scans
Uses many format of memory cards
Doubles as card reader
Well made
Lightweight and portable
Extremely easy to use
Cons:
Can't scan directly into computer, not recognized as scanner
| | |
| --- | --- |
| Grades: | |
| Overall | |
| Design | |
| Performance | |