Up for review today I've got another Bluetooth keyboard from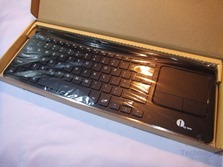 One of the main features of this keyboard is the touchpad off to the right side. The touchpad is just like that you might find on a laptop and it works just like one but it also supports 1, 2 and 3 finger gestures if the operating system supports it.
The keyboard is about 14" x 5" x .5" at the thickest point on the back and it feels very well made overall. The keyboard is mostly about 1/8" thick except for the back edge where the battery compartment is. The keys remind me of what you would find on a laptop, they're not every tall and they're springy.
Across the top of the keyboard you'll find office, browser and multimedia buttons. There is also two blue colored keys for function and Bluetooth.
On the back edge you'll find the power switch it just slides left and right.
Most of the bottom is metal and it looks nice, the battery compartment is also here and you'll need two AAA batteries for power. The batteries should last at least three months according to the specs, if you use it about two hours per day that's the estimated time, but battery life will depend on use of course. The metal on the bottom makes the keyboard sturdy as it's very thin.
I used the keyboard with both my Windows 10 tablet and Android tablet and it worked fine, no issues pairing at all. To pair it you just enter pairing mode by pressing the function and Bluetooth buttons and the indicator will blink and then just search for it on your device. Your device will prompt you to enter a numeric password and press enter to complete the pairing process.
Conclusion
The 1byone Bluetooth keyboard is a decent product that work well. I like it, it's small and portable, but it's thin so it might not take to being stuff in a bag well, other than being thin the keyboard is nicely made and it looks great.
I've had no issues with the keyboard while using it, it doesn't lose connection with Windows or Android even if you don't touch it for a few minutes. I had no problems with pairing over Bluetooth, it worked just fine.
It's a decent keyboard in my opinion, it works well and it's well made, a good choice if you need a portable keyboard to go with your tablet or even phone.
Pros:
+Well made
+Simple to use
+Relatively portable
Cons:
-Rather thin and sort of fragile
| | |
| --- | --- |
| Grading | Scores Out of 10 |
| Overall | |
| Design / Aesthetic | |
| Value / Price | |
| Performance / Usage | |
Disclosure: This product was given to us for review by the company for review purposes only, and is not considered by us as payment for the review.
To learn more about our review policy please visit this page HERE.