For my first couple of reviews at Technogog I tested several Bluetooth-based products. Keeping with this trend today we will look at the Altec Lansing Life Jacket Bluetooth speaker. This speaker is designed to be durable as it is both waterproof and shock resistant as well as being portable. It can even submerge to up to one meter without any consequence.
The Life Jacket is also multifunctional as it can work as a wireless Bluetooth speaker, speakerphone with its built-in onboard microphone and the ability to function as a charger for any USB powered device including smart phones or tablets. It has a 16-hour battery life and NFC wireless check in capability.
Unboxing
The Life Jacket arrives in a large clear rectangular plastic box with the speaker visualized within resting in a plastic designed to look like rocks. Some features are listed on the front of this box. An insert behind the speaker lists some additional features of the device.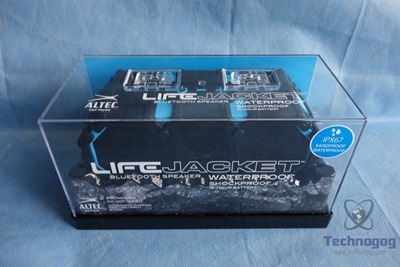 Opening the package we find inside the Altec Lansing Life Jacket speaker, an AC adapter, a USB cable, a 3.5 mm auxiliary cable, carrying satchel and a Quick Start guide. The Life Jacket comes in red or blue configurations; for today's review we will look at the blue version.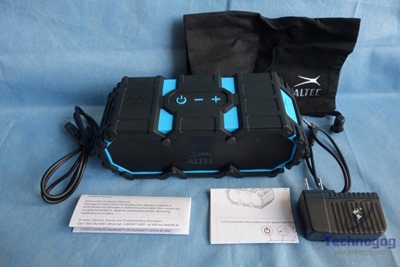 The speaker measures 8 x 3.2 x 3.2 inches and weighs 1.5 pounds. It has a rectangular shape with octagonal features. For its appearance Altec Lansing went with a military looking style.
The front of the Life Jacket has two forward speakers protected by a metal grill. In the center of this front area we see the Altec logo along with two LEDs one for power/charge and the other for Bluetooth connectivity.
On the top of the unit in the center are the power and volume controls while to the left of the power button is the NFC wireless connect pad. This allows Bluetooth devices with Near Field Communication capability to easily pair with the speaker. Angled on the far right is another Altec logo.
The back of the Life Jacket houses the passive radiator, which provides the low end for the bass. A rubberized door covers the micro USB input, an auxiliary jack and USB port. From this area the Life Jacket can be used as an external battery to charge one's phone or tablet.
Specifications and Features
The ultra-rugged, waterproof Life Jacket portable wireless Bluetooth® speaker delivers legendary studio-quality sound anywhere your adventures take you. Featuring an IPX7 rating for durability, the Life Jacket is waterproof, shock-resistant, and constructed to withstand dirt, sand and dust to be sure the music never stops – wherever you are.
Portable Design
The ultra-rugged, waterproof Life Jacket is a portable wireless Bluetooth® speaker designed to deliver legendary studio-quality sound anywhere your adventures take you.
Featuring an IPX7 rating for durability as well as a heavy-duty, washable rubberized skin, the Life Jacket is waterproof, shock-resistant, and constructed to withstand dirt, sand and dust to be sure the music never stops – wherever you are. And at just 6" long, 2" high and one pound, you can take it just about anywhere.
No power? No worries: the powerful Lithium-ion battery ensures up to 16 hours of continuous playback on a single charge. And – because it's from Altec Lansing – the Life Jacket packs an audio punch with aptX® CD-quality audio and dual 2.5" Neodymium drivers with passive radiator.
Superior Sound
Pair the Life Jacket with any Apple, Android or BlackBerry phone, and it doubles as a speakerphone, with an onboard microphone for clear hands-free calls and spoken caller ID that makes it easy to accept, reject and terminate calls with voice commands. With a 30-foot signal range, the Life Jacket pairs easily and remembers up to eight devices, including any Bluetooth-enabled tablet or laptop, plus any other device with a built-in 3.5mm port.
Whether you're at a party, on the beach, off-roading or camping, you want to hear your music as it was meant to be heard: crisp and clear. Now the Life Jacket makes it possible!
MSRP Price: $149.99
Price: $107.19 (from Amazon at time of review)
The Review
Setup of the Life Jacket can be performed after initialing charging the speaker. It takes approximately four hours to fully charge. During the charge cycle the LED will be illuminated orange, once complete it will turn off.
The first time the Life Jacket is powered up it will enter into pairing mode. Pressing and holding the power button for several seconds will also place it in pairing mode.
At this point you can either enter the settings screen of your iOS, Android or other Bluetooth enabled device and pair up to the device called IMW575, which is the model number of the Life Jacket. If you own an NFC device such as a Nexus phone or tablet you can connect by holding that device over the NFC zone.
At this point the Life Jacket is ready to be used for music playback, phone calls or functioning as a portable charger.
For testing the iPhone 6, Nexus 4 and iPad Mini were used in conjunction with the Life Jacket speaker. In terms of acoustics the Life Jacket does a yeoman like job of sound reproduction. The speaker did not sound to tinny or like it had too much bass. There was no noticeable distortion. The Life Jacket may not sound like a $400 speaker but it performs quite well.
For a relatively small size speaker Life Jacket was able to play music at a fairly loud without any significant distortion.
The biggest issue with the Life Jacket speaker is the inability to control wireless music other than adjusting the volume. From the speaker you are unable to skip tracks, pause or resume music playback. Almost all the music control must be done from the Bluetooth enabled source.
In addition Altec Lansing does not provide a user manual to fully take advantage of the Life Jacket. Other than the QuickStart guide which shows the basics there is no information on how to answer or make phone calls using the speaker wirelessly in the package. Using Google I was able to find the PDF version of the manual – here. Yet it did not provide much more additional information.
To answer an incoming phone call you can either tap the power button gently or verbally say answer. To end the phone call simply tap the power button once again. There is no option to use either the Siri or Google Now features on the Life Jacket.
As a speakerphone the Life Jacket sounds like most speakerphones, slightly echoic and distant. Calls made using the speakerphone sound passable for both the caller and receiver in the conversation. It will never be mistaken for using the phone directly but does not sound any worse than any other form of speakerphone.
The final other main feature of the Life Jacket is the ability to charge your USB enabled devices. In this regard the Life Jacket did a perfect job. Although I would not carry it around as spare battery due to its size, it works well those times when you need an emergent charge especially if you are off on an adventure.
In terms of robustness the Life Jacket has an IPX7 rating for durability. According to this rating scale this means the speaker can survive an underwater immersion of up to 1 meter. The outer rubber skin is washable and should protect the Life Jacket quite nicely. I dunked the Life Hacker in the sink several times without any damage to the speaker. The speaker also floats so there is no worry about it ending up in the bottom of a lake.
Like most Bluetooth devices the Life Jacket has a 30-foot signal range that easily worked across my home during testing. Altec Lansing designed this speaker to remember up to eight devices when paired. For any non-Bluetooth musical device a built in 3.5 mm jack allows other devices to connect to the speaker.
For times when the Life Jacket is not in use it can be stored in the included cloth satchel. A drawstring closes the opening of the bag.
Conclusion
The Altec Lansing Life Jacket portable speaker is designed for those who enjoy taking their music on their adventures. The housing for the speaker is designed to withstand most trauma and shocks as well as the ability to survive dips and dunks into the water. This makes the Life Jacket ideal for those who like to get dirty.
It is portable and relatively lightweight while packing a surprisingly loud punch with above average soundstage for such a small speaker. Unfortunately Altec Lansing did not put controls on the Life Jacket for playing/pausing music or even skipping tracks. This is a pretty big oversight for a device that's supposed to use Bluetooth capability to remotely control the audio supplying source. Hopefully for its next iteration Altec Lansing will address this issue.
Besides acting as a speaker the Life Jacket can also function as a speakerphone. Once again the inability to remotely control all the features from the Life Jacket limits some of its utility.
For those who need additional power while on the go, the Life Jacket readily does that with its built-in large capacity lithium battery.
Overall the Life Jacket is a good option for those who want a speaker that is both portable and durable. Its additional capacity as a speakerphone and charger makes it an even better value. As long as the inability to fully control music playback is not an issue then the Life Jacket is worth consideration
Pros:
+Works as speakerphone
+Good soundstage for a small form factor
+Doubles as a portable charger
+16-hour battery life
+Shock and waterproof
+NFC pairing enabled
Pros2
Cons:
-Minimal music playback controls on the speaker
-Speakerphone controls limited
| | |
| --- | --- |
| Grading | Scores Out of 10 |
| Overall | |
| Design / Aesthetic | |
| Value / Price | |
| Performance / Usage | |
To learn more about our review policy please visit this page HERE.